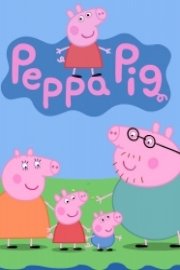 Watch Peppa Pig: Sandcastles
Peppa Pig: Sandcastles is a children's animated series that follows the adventures of Peppa Pig, a little pink piggy who loves to play games, go on adventures and have fun with her family and friends. The show is produced by Astley Baker Davies and animated by Entertainment One and is aimed at preschool children. It is part of the Peppa Pig universe, which includes a wide range of merchandise, toys and books.
In the episode Sandcastles, Peppa and her family are on a trip to the seaside. They arrive at the beach and discover that it is full of sandcastles. Peppa and her brother George are determined to build the biggest and best sandcastle on the beach. They get to work with their buckets, spades and other tools, but they are soon joined by their friends Danny Dog and Pedro Pony.
As the sandcastle starts to take shape, Peppa and George begin to use their imaginations to create all sorts of fun features. They make towers, moats and even a drawbridge. Their friends join in, adding their own ideas and creative touches to the sandcastle.
However, building a sandcastle is not as easy as it looks, and Peppa and her friends soon discover that it takes a lot of hard work and patience. They have to make sure that the walls are sturdy and the towers are straight. They also have to work together to make sure that their vision becomes a reality.
Throughout the episode, Peppa and her family and friends learn some valuable lessons about teamwork and perseverance. They also have a lot of fun, playing games, splashing in the water and building sandcastles. The show is designed to be both educational and entertaining, with a focus on promoting positive values and encouraging children to use their imagination and creativity.
The animation style of Peppa Pig: Sandcastles is simple and colourful, with bright, cheerful characters and settings. The dialogue is easy to understand and full of humour and playfulness, making it engaging and relatable for young children. The show also features catchy songs and music that are designed to get kids dancing and singing along.
Overall, Peppa Pig: Sandcastles is a charming and engaging children's show that encourages creativity, teamwork and imagination. The show is perfect for preschool children and is a great way to introduce them to the joys of storytelling and animation. With its loveable characters, fun storylines and positive messages, it is no wonder that Peppa Pig is one of the most popular children's shows of all time.
Peppa Pig: Sandcastles is a series that is currently running and has 1 seasons (3 episodes). The series first aired on July 20, 2015.