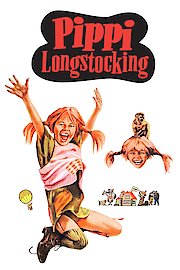 Watch Pippi Longstocking
1998
2 Seasons
Pippi Longstocking is a beloved character from children's literature, who has captured the hearts of generations with her quirky antics, her wild hair and her boundless spirit. Based on a series of books by Swedish author Astrid Lindgren, Pippi Longstocking has been adapted into numerous films, television shows, and even a musical. One such televised adaptation is the Dove Channel's 1969 Pippi Longstocking series, starring Melissa Altro.
The show follows the adventures of Pippi, a young girl who lives alone with her pet monkey and horse, in a brightly painted house called Villa Villekulla. Pippi is an independent and free-spirited girl, who possesses superhuman strength and an unbridled imagination. She has a unique outlook on life and is always up for an adventure. Pippi makes friends with Tommy and Annika, the children in the neighboring house, and together, the trio goes on countless escapades, encountering pirates, kidnappers and haunted houses along the way.
Melissa Altro plays the effervescent titular character of Pippi Longstocking, and her performance is delightful to watch. She captures the spirit of the character perfectly, infusing her with a playful energy that is infectious. Altro's portrayal of Pippi is dynamic, and she brings a depth to the character that is both entertaining and heartwarming. Altro has said in interviews that she was a huge fan of the Pippi Longstocking books as a child, and her love for the character shines through in her performance.
One of the show's strengths is its vibrant setting. The show was filmed in Toronto, Canada, and the locations and backdrops are colorful and imaginative. Villa Villekulla is a whimsical house with bright red, yellow and green walls, and the surrounding area is lush and verdant. The show's art direction is whimsical and imaginative, which perfectly complements Pippi's character.
Another standout feature of the show is its catchy theme song. The song is a favorite of many fans of the show and has become iconic in its own right. The lyrics describe Pippi's adventures and her unique perspective on life, and the melody is upbeat and infectious. The theme song sets the tone for the show and is a perfect introduction to Pippi's world.
The show's episodic nature means that each episode is its own contained adventure, which makes it perfect for young children. Each episode sees Pippi and her friends encountering new challenges and overcoming them with ingenuity and creativity. The show's whimsical and imaginative world lends itself well to the show's episodic structure, and each episode feels like a unique and engaging adventure.
Pippi Longstocking is a timeless character, and although the Dove Channel's adaptation of the show is nearly 60 years old, it still holds up today as a charming and entertaining children's show. The show's focus on adventure, imagination, and friendship make it a perfect show for young children, and Melissa Altro's portrayal of Pippi Longstocking is nothing short of brilliant. The show's memorable theme song, colorful setting, and episodic structure all add up to create a show that is sure to delight children and adults alike.
In conclusion, the Dove Channel's 1969 Pippi Longstocking series is a classic adaptation of a beloved children's character. Melissa Altro's portrayal of Pippi Longstocking is dynamic and entertaining, and the show's emphasis on adventure, friendship, and imagination make it perfect for young children. The show's memorable theme song, vibrant setting, and episodic structure all come together to create a show that has stood the test of time and is still beloved by fans today.
Pippi Longstocking is a series that is currently running and has 2 seasons (40 episodes). The series first aired on July 4, 1998.