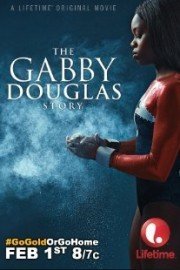 Watch The Gabby Douglas Story
Not Rated
2014
1 Season
The Gabby Douglas Story is a biographical drama film that tells the inspiring story of the first African-American gymnast to win Olympic gold in the individual all-around event, Gabrielle Douglas. Produced by Lifetime and first aired in 2014, the movie stars Regina King, Imani Hakim, and Sydney Mikayla as the lead cast.
The movie begins with a young Gabby Douglas (played by Sydney Mikayla) showing her aptitude for gymnastics and dreaming of becoming a champion one day. However, growing up in a low-income family in Virginia, Gabby faces various challenges, including financial struggles, racism, and familial discord. But she remains determined to pursue her passion and trains intensively to become a world-class athlete.
As Gabby grows older, her skills improve, and she catches the attention of a renowned gymnastics coach, Liang Chow (played by Brian Tee). Chow invites Gabby to his gym in Iowa, where she can train with other elite gymnasts and have a better shot at competing in the Olympics. Despite initial reluctance from her mother, Natalie (played by Regina King), Gabby decides to make the move to Iowa.
The move to Iowa is not easy for Gabby, who misses her family and struggles to fit in with the other gymnasts. She also faces discrimination and bullying from some of the other athletes because of her race. Nevertheless, Gabby perseveres, and with the help of Chow and her fellow gymnasts, she improves her skills and becomes a top contender for the Olympic team.
The movie culminates in the 2012 London Olympics, where Gabby competes against some of the best gymnasts in the world. She makes history by becoming the first African-American gymnast to win Olympic gold in the individual all-around event, as well as helping her team, the "Fierce Five," win the team gold medal.
Throughout the film, we see various themes and messages that resonate with viewers. One of the central themes is the importance of perseverance and hard work in achieving one's goals. Gabby faces numerous setbacks and obstacles, but she never gives up and continues to work hard towards her dream. Additionally, the movie touches on the issue of race and the struggles faced by people of color in pursuing their dreams. Gabby faces discrimination and bullying from some of her white peers because of her race, but she remains strong and resilient in the face of adversity.
The performances by the cast are outstanding, with particular praise for Imani Hakim's portrayal of the teenage Gabby Douglas. Hakim captures Gabby's determination and spirit, as well as her vulnerabilities and insecurities. Regina King is also excellent as Gabby's mother, portraying her as a strong-willed and loving parent who wants the best for her children.
Overall, The Gabby Douglas Story is an inspiring and heartfelt movie that tells the story of an incredible athlete and role model. It celebrates the power of resilience, determination, and hard work in achieving one's dreams and serves as a reminder that anything is possible with the right mindset and dedication. Whether you're a fan of gymnastics or not, this film is a must-see for anyone who appreciates a good underdog story.
The Gabby Douglas Story is a series that is currently running and has 1 seasons (1 episodes). The series first aired on February 1, 2014.