Reality Show
Reality Show follows the story of a struggling reality show producer by the name of Mickey Wagner who is played by Adam Rifkin. With Mickey being fed up with the way reality shows are made in today's market, he comes up with a risky plan to develop his own unique reality show. Mickey's idea was to put an average family on camera without their knowledge to enhance the reality of the show. Mickey wanted real life to show on the cameras, not the fake story lines and props.
Mickey's idea gets a little tricky due to the fact that finding the right family would be more difficult then he imagined. Soon, Mickey realizes why other reality shows had props and other influences. After a while, Mickey's chosen family gets more boring by the day. Mickey eventually takes matters into his own hands and decides to introduce a little drama in the family's life. One thing leads to the next and before you know it, Mickey has put his finger prints into a very messy situation.
Unfortunately the success of the show means the destruction of this seemingly innocent family. Mickey questions his morals and his original idea, but the financial burdens of life seem to make for a good excuse. With the cameras rolling without warning to the family, Mickey assumes that everything will go according to plan. Mickey rationalizes the invasion of this family's life with the idea that fame will heal all wounds.
Mickey does not want to change course now, especially since he had to go through a lot of hard work just cross referencing data and records. Mickey was lucky to have found an American family with a unique last name that seemed to fit the show's purpose: the Warwicks. With that name alone, Mickey felt the story was going to write itself. Mickey quickly realizes that reality is not all it's cracked up to be.
Thursday 11:30 PM et/pt on Showtime

1 Season,

8

Episodes

November 1, 2012

/

10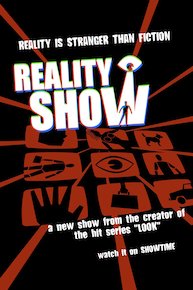 Reality Show Full Episode Guide
Episode

8

-

It's Not What You Think It Is

The first season comes to a close when an enraged Katherine kicks Dennis out of the house. Meanwhile, Amy runs away and finds comfort with Yvonne. When Dennis discovers the truth about Katherine's affair with Chad, he takes him hostage at gunpoint.

When Dennis refuses to cheat on his wife, the network becomes angry, so Mickey turns his focus to Katherine and tries to manipulate her into committing adultery. Meanwhile, Amy disregards her grounding and sneaks out of the house to go partying with Yvonne.

Mickey hires an actress and plants her in Amy's school, with the intention of shaking her out of her good-girl image; and Mickey gets involved in Dennis' workplace and gets him fired.

Episode

4

-

Operation Conflict

The footage of Amy's near-death experience has Mickey thinking of new ways to put some zip into the Warwick family's life.

Episode

3

-

Product Placement

Episode

2

-

The Sizzle Reel

Mickey is feeling pressure from the network as an affiliates dinner is approaching fast and they need something to sell to advertisers. So Mickey interferes with the Warwicks anniversary dinner and sets their teenage daughter Amy up for a night she will never forget. But will it be enough?