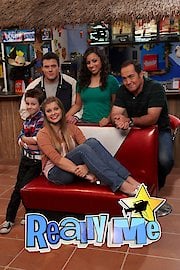 Watch Really Me
Really Me was a Canadian television show produced by FremantleMedia that aired from 2011 to 2013. The series follows Maddy Cooper, a teenage girl who becomes the star of her own reality TV show. Maddy is played by Sydney Imbeau, a young actress who brings a genuine sense of authenticity to the role.
Maddy is an aspiring actress who lives in a small town with her family. She jumps at the chance to audition for a new reality show called "Really Me," which promises to make her a household name. Maddy is chosen as the star of the show, and she is soon whisked away to Toronto to begin filming.
At first, Maddy is thrilled to be in the spotlight. She gets to wear amazing clothes, attend glamorous events, and hang out with other young actors. However, she soon realizes that reality TV is not all it's cracked up to be. The show's producers constantly manipulate her and her co-stars to create drama and conflict, and Maddy struggles to maintain her authenticity in a world that values shallow entertainment over substance.
One of the most compelling aspects of Really Me is the way it explores the tension between real life and reality TV. Maddy's family is often caught up in the drama of the show, and we see how the constant filming and attention can strain even the closest relationships. At the same time, Maddy's career aspirations are put into sharp relief by the grinding and sometimes degrading work that goes into being a reality TV star.
The show also delves into issues that are common to many young people, such as navigating relationships, coping with parental expectations, and finding one's true identity. Maddy's best friend Julia, played by Kiana Madeira, provides a grounding presence throughout the series, and her interactions with Maddy are an important source of humor and depth.
One of the standout characters in Really Me is Maddy's dad, played by Neil Crone. He is a loving and supportive presence in her life, but he also has his own struggles as a single parent trying to raise three kids on his own. His scenes with Maddy are some of the most poignant in the show, and they provide a much-needed counterpoint to the more superficial elements of the reality TV world.
Overall, Really Me is a delightful and engaging series that manages to balance humor, drama, and heart in equal measure. It provides a fresh and insightful look at the world of reality TV, while also exploring the challenges and joys of being a teenager in today's world. With excellent performances from its young cast and a sharp, well-written script, Really Me is a show that will resonate with audiences of all ages.