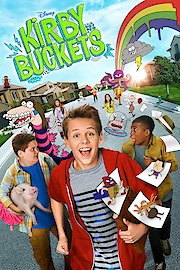 Watch Kirby Buckets
TV-Y7
2014
105 Seasons
Kirby Buckets is a popular American TV series that aired on Disney XD from 2014 to 2017. It is a comedy-oriented show that revolves around the life of Kirby Buckets, a young aspiring animator and his group of friends. Played by Jacob Bertrand, Kirby is a witty teenager who is obsessed with creating cartoons and animations. He has a huge imagination and often escapes reality by blending his real-life experiences with his animated creations. Kirby's dream is to become a professional animator and create his own cartoon series.
Kirby's friends form an integral part of the show, and their dynamics add to the humor and excitement. Mekai Curtis plays the character of Fish, Kirby's loyal best friend who is always ready to help him in any situation. Fish is not as creative as Kirby, but he is fearless and has a unique ability to make things happen.
Cade Sutton plays Eli, Kirby's other close friend, who is nerdy, quirky, and a bit socially awkward. Eli has a strange hobby of collecting and cataloging different types of dirt, which often leads to comical situations. Despite his awkwardness, Eli is intelligent and has a witty sense of humor that often takes his friends by surprise.
The show also features other supporting characters who add spice to the storyline. Olivia Stuck plays Dawn, Kirby's outspoken and confident younger sister who often interferes in Kirby's affairs. Dorien Wilson plays Principal Mitchell, the head of Kirby's school, who is strict, stern, and often at odds with Kirby.
The plot of Kirby Buckets is centered around Kirby's adventures and his quest to turn his imagination into reality. Kirby often creates imaginary characters and situations, which he turns into animated shorts with the help of his friends. He imagines himself as a superhero, a rockstar, or a secret agent, and his friends always have his back, helping him bring his wild ideas to life.
Throughout the show, Kirby and his friends encounter various challenges, from dealing with bullies to trying to get their animated shorts recognized. The show balances comedy with important life lessons, such as the importance of teamwork, loyalty, and perseverance. Kirby also learns to embrace his unique style of creativity and believe in himself despite setbacks.
The show's animation segments are a highlight, seamlessly blending with the live-action storyline. Kirby's animated creations, such as the character of Dr. Gut Punch, his superhero alter-ego, add to the show's quirkiness and entertainment value.
Overall, Kirby Buckets is a show that appeals to kids and adults alike. Its relatable characters, witty humor, and positive messages make it an enjoyable watch for the whole family. It celebrates creativity and the power of imagination, inspiring viewers to chase their dreams and embrace their unique talents.
Kirby Buckets is a series that is currently running and has 105 seasons (74 episodes). The series first aired on October 20, 2014.