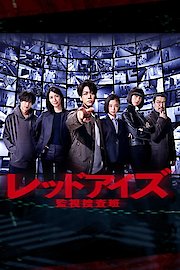 Watch Red Eyes
Red Eyes is a highly anticipated Japanese drama that premiered on Nippon TV in 2021. The series stars Hiro Shimono, Kazuya Kamenashi, and Hokuto Matsumura in lead roles, and is directed by renowned filmmaker Yoshimitsu Morita. Red Eyes follows the story of two detectives, Tatsuya and Keiichi, who work at the Tokyo Metropolitan Police Department. The two men have vastly different personalities, with Tatsuya being an introverted and methodical detective, while Keiichi is a confident and somewhat reckless investigator. Despite their differences, the two men have a strong working relationship and frequently team up to solve high-profile cases.
The main case in Red Eyes involves a serial killer who has been targeting women around Tokyo. The killer is known for leaving a distinct red lipstick mark on the victims' bodies, which is why the investigation is dubbed the "Red Lipstick Murders." Tatsuya and Keiichi are tasked with solving the case, but quickly realize that it is more complicated than they initially thought.
As the investigation progresses, Tatsuya and Keiichi encounter a number of suspects and witnesses who may have information about the killer. These include a traumatized young girl, a wealthy businessman with a dark past, and a mysterious woman who seems to know more than she's letting on. With each new lead, the detectives must navigate a web of lies and deceit in order to uncover the truth.
In addition to the murder case, Red Eyes also explores the personal lives of the main characters. Tatsuya is dealing with the loss of his wife and daughter in a car accident, and struggles to connect with others as a result. Keiichi, on the other hand, is a ladies' man who often finds himself in trouble with his superiors due to his impulsive behavior.
The performances of the three leads in Red Eyes have been praised by audiences and critics alike. Hiro Shimono delivers a nuanced and introspective portrayal of Tatsuya, while Kazuya Kamenashi adds a charming energy to the role of Keiichi. Hokuto Matsumura, who is known for his work as a member of the boy band SixTONES, shines in his first major acting role as a rookie detective named Ryosuke.
The show's direction is also noteworthy, with Yoshimitsu Morita creating a gritty and atmospheric portrayal of Tokyo that serves as a backdrop to the investigation. The use of music and sound design further enhances the tension and suspense of the drama, making Red Eyes a thrilling and engaging watch from start to finish.
In summary, Red Eyes is a captivating and well-crafted drama that showcases the talents of its cast and crew. The series combines an intriguing murder mystery with complex and relatable characters, resulting in a satisfying and compelling viewing experience. It is a must-watch for fans of crime dramas and Japanese television alike.
Red Eyes is a series that is currently running and has 1 seasons (10 episodes). The series first aired on January 23, 2021.