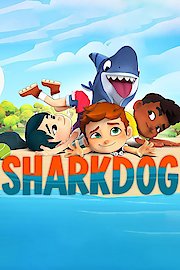 Watch Sharkdog
TV-Y
2021
3 Seasons
Sharkdog is a brand new children's show that premiered on Netflix in 2021. It's a story about a boy named Max who lives in a world where pets are allowed to have unique abilities, such as telekinesis, levitation, and communication. Max is a young boy who longs for a pet but hasn't been able to find one that suits him, that is until one day when he stumbles upon the perfect pet - Sharkdog.
Sharkdog in itself is a unique creature, he is half dog and half shark. Max's life is turned upside down when Sharkdog enters his life. What makes Sharkdog truly special is its ability to transform its dog-like mind into the mind of a shark, giving him the unique ability to swim in the ocean and breathe underwater. Max and Sharkdog together embark on a series of fun, wacky, and unforgettable adventures.
At the heart of Sharkdog lies the friendship between Max and Sharkdog. Max is just like any other child who wants a friend and Sharkdog fulfills that need. Max and Sharkdog form an unbreakable bond that is sure to make children go 'aww'. Max becomes protective of Sharkdog and vice versa, Sharkdog continues to amaze Max with his unique shark abilities.
The show has a feel-good vibe that will appeal to children and adults alike. The animation style is unique and it stands out for its pastel colors and charming character design. Children will find Sharkdog to be a cute creature with sharp teeth and a wagging tail. The show is not only visually appealing but it's filled with hilarious dialogues that will make both children and adults crack up.
Liam Mitchell voices Max - he does an excellent job at bringing to life a young boy who is quirky and weird, yet likeable. Liz Burnette voices Max's mother and she plays her role with authenticity and warmth. The standout voice in Sharkdog is that of Dee Bradley Baker, who voices Sharkdog. Baker adds the right amount of energy and sass to Sharkdog, making him a lovable character that children will want to emulate.
Sharkdog tackles themes such as friendship, loyalty, and teamwork. Max and Sharkdog team up to solve problems and overcome obstacles, showcasing how important it is to work together. Every episode has a fresh plot and a new obstacle that Max and Sharkdog have to overcome, be it saving the town from a giant octopus or helping a shy girl make friends.
The show is also a celebration of pets and the role they play in our lives. Pets are more than just animals, they are family members and they bring joy and happiness to our lives. Sharkdog is an ode to the bond between pets and their owners.
Sharkdog is perfect for children aged 3-10. It's a light-hearted show that is filled with adventure, humor, and heart. It's a show that parents can watch with their children and not feel bored. Sharkdog is a perfect example of the type of children's programming that Netflix has been producing. It's refreshing to see a show that is not only well-written but well animated too.
In conclusion, Sharkdog is a show that children will enjoy and parents will appreciate. It's a show about a boy and his pet that transcends the genre and becomes an unforgettable experience. Sharkdog is a must-watch for children who love animals and for adults who want to relive their childhood. Sharkdog proves that sometimes all you need is a little loyalty, friendship, and a half-dog, half-shark pet to make life adventurous!
Sharkdog is a series that is currently running and has 3 seasons (34 episodes). The series first aired on September 3, 2021.