SuperCars Exposed
The show is hosted by Tanner Foust, who is both a drifting race champion as well as being a road rally champion. During the course of the show Foust, who will usually be joined by a special race driving guest and the two will explore all of the mechanics of the fastest, most expensive and sleekest cars on the planet. The cars in question will vary from Lamborghinis to Ferraris to even Ford GTs and other rare cars that will have their true potential exposed live. From there the guest and host will hop in the various cars and drive down the racetracks at full speed and maxing out their horsepower for the purpose of testing the absolute limits of the vehicles.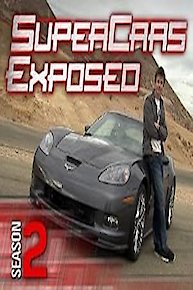 SuperCars Exposed Full Episode Guide
Episode

12

-

Wild West Exotics

Tanner drives some of the fastest exotics in the west during this year's running of the Texas Mile; co-host Louise Brady drives around Los Angeles reporting on A Day in the Life of a Super Car. Only on SPEED.

Episode

11

-

Porsche Turbos

In Arizona, Tanner Foust drives a super tuned Porsche 997 on the Bondurant School of Performance Driving track; Louise Brady and California Governor Arnold Schwarzenegger check out a hydrogen assisted Turbo powered Ronn Scorpion roadster. Only on SPEED.

At home in England, co-host Louise Brady attends chauffeur school. On a tour of the Bentley factory, as luck would have it, she manages to get a job driving British royalty. Only on SPEED.

Host Tanner Foust drives the worlds fastest four-door, the Brabbus Rocket, in Germany before heading stateside to drive the Lexus ISF on the track, Cadillac's new CTS-V and BMW's powerful M5. Only on SPEED.

Episode

8

-

Lamborghini Club Italia

Tanner and the president of the Lamborghini Club enjoy the Italian tradition of a fine meal before driving some collectable super cars. Only on SPEED.

Episode

7

-

The American Supercar

Tanner and co-host Louise Brady pit Chevrolet's fastest Corvette, the ZR1 against the world super car standard bearer, the Porsche Turbo. Only on SPEED.

Tanner and co-host Louise Brady explore the world of Mercedes' performance division AMG, both in Germany and California. Only on SPEED.

Episode

5

-

Nurburgring and Pagani

Tanner drives an Aston Martin DBS at speed on the world famous Nordschleife at Nurburgring. Later, he meets Horacio Pagani, designer of the Pagani Zonda F.

Episode

4

-

Porsches in Germany

Host Tanner Foust is in Stuttgart, Germany, learning how to tune the newest Porsche models.

Episode

3

-

Tanner and the German Drift Queen

Tanner gives German super model Katharina Kuhlmann drifting tips in return for lessons in Autobahn etiquette in a Ferrari 599 GTB.

In Italy, Tanner drives three Lamborghinis, including a 1.5 million dollar Reventøn through the Italian countryside.

Season two of SuperCars Exposed begins when host Tanner Foust applies for a job test-driving Ferraris at the factory in Italy.
Episode

13

-

Electric Supercars

SSC's Ultimate Aero claims a world speed record; 725 HP Super Snake Mustangs; laugh at gas prices with high performance electric cars. Only on SPEED.

Episode

12

-

Ultimate Shootout

Some of the most powerful exotic street cars meet in the Supercars Exposed Ultimate Shootout. Only on SPEED.

Episode

11

-

Road Atlanta

Tanner Foust takes a number of vehicles from the Panoz stable to the track at Road Atlanta; then he crosses the country to explore the Northern California driving scene. Only on SPEED.

Episode

10

-

"Budget" Supercars

Defending Formula D champion Tanner Foust drives the new Nissan GTR and a R34 Skyline on the streets of Long Beach. Only on SPEED.

Episode

9

-

Ride with Tony

Episode

8

-

Audi R8/200 MPH

Tanner puts an R8 through its paces at the Audi R8 driving school at Infineon Raceway, then takes it to the street to prove its super versatility. At a Texas Mile event he gets an 800 HP Ford up to 204 miles per hour. Only on SPEED.

Episode

7

-

World Class Driving

Tanner takes a trip to Hawaii to join a driving tour that allows anybody the opportunity to drive an exotic car; actor Mekhi Phifer buys a supercar with a little help from his friend, retired NBA star Chris Mills. Only on SPEED.

Episode

6

-

The American Supercar Show

Taking a break from European exotics, Tanner focuses on three American rides ? the Corvette Z 06, Ford GT and the Saleen S7. Only on SPEED.

Episode

5

-

Los Angeles Supercar Show

Six supercar owners and six lowriders rally through LA, sharing each other's car culture. Only on SPEED.

Host Tanner Foust tests his winter weather driving skills at the Porsche Winter Driving Academy in Vail. Only on SPEED.

Episode

3

-

Stock vs. Custom

It's stock against custom import. Tanner Foust races a Ferrari 360 Stradale against an ultra-modified Subaru STI. Only on SPEED.

Tanner Foust puts an eclectic mix of exotic cars to the test to see which are worthy to be called "SuperCar." Only on SPEED.

Episode

1

-

Mulholland Drive

The California Highway Patrol shuts down Mulholland Drive for host Tanner Foust and professional racer Townsend Bell, for some friendly competition through the winding roads above Malibu. Only on SPEED.