The All-For-Nots
The All-For-Nots is a Web-based mockumentary series which follows the adventures of an "indie rock pop punk Americana" band touring the country in an old, beat-up van. Billed as "the band that will conquer the World Wide Web... unless they run out of gas," AFN runs into one humorous setback after another, but always finds a way to get back on the road.
One of the driving forces behind The All-For-Nots is former Disney chief executive and TV host Michael Eisner. Seeing a need for well-produced episodic content for the Internet, portable media devices and cell phones, Eisner started an investment firm and production studio to help bring new projects online. The company teamed up with AFN creators Thom Woodley and Kathleen Grace to bring the fake band to life. The show is produced by Grace, Woodley and Melissa Schneider, and written by Woodley, Matt Yeager and Andrew Wagner.
The fake band is made up of four musician characters from Brooklyn played by actors Kevin Johnston, Michael Moravek, Erica Harsch and Woodley, respectively. Each episode of the show features the problems of one character. For example, one show focuses on the loss of one character's job, while another concentrates on a character who questions his own integrity. The cast is rounded out by Marielle Heller, Vanessa Reseland and Brian Cheng, who plays the band's manager.
In the tradition of manufactured TV bands of the past, AFN produces real music which is released for sale to the public. In addition, the fake band also has performed live gigs outside of the show, further blurring the line between what's real and what's not.
1 Season,

24

Episodes

March 11, 2008

/

10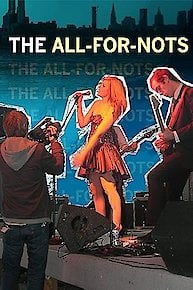 The All-For-Nots Full Episode Guide
Say something with the the "f" word in it.

Episode

23

-

Olympic Valley

Caleb Casablanca would autograph that boob.

I've had my share of wins

Episode

21

-

Salt Lake City

I didn't wanna get turned into a zombie.

Something's going on behind my back.

You're magically terrible

Excuse me, you're standing on my you know what!

The panties are hitting the stage!

When it comes to blows don't act surprised

Episode

10

-

Washington D.C.

People will eat this stuff up.

He likes whatever hits him

Any of my bandmates could be called sexy

You want me to wrestle you?

Episode

5

-

State College

He usually comes back with something new like a tattoo or a black eye.

Whatever she is, she's a punk...