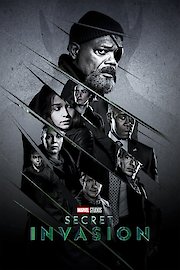 Watch Secret Invasion
TV-14
2023
1 Season
Secret Invasion is an exciting and highly anticipated television series that premiered on Disney+ in 2023. Based on the popular Marvel Comics storyline of the same name, it brings together a stellar ensemble cast and promises to be a thrilling addition to the Marvel Cinematic Universe (MCU). With its captivating mix of action, suspense, and intrigue, Secret Invasion immerses viewers into a world of deceit and hidden agendas.
The show unfolds in the aftermath of the events depicted in Captain Marvel, as the world grapples with the shocking revelation that the shape-shifting alien race known as the Skrulls have been living amongst humans, masquerading as trusted individuals. No longer able to trust anyone, paranoia runs rampant as friends and loved ones question one another's true identities. At its core, Secret Invasion is a captivating exploration of loyalty, trust, and the cost of secrets.
Leading the cast is the legendary Samuel L. Jackson, reprising his role as the enigmatic and resourceful former S.H.I.E.L.D. director, Nick Fury. Jackson's magnetic presence ensures that viewers are in for a captivating ride as Fury investigates the infiltration of Skrulls and uncovers a conspiracy that threatens the entire planet. Accompanying Fury on this treacherous journey is another Marvel fan-favorite, Ben Mendelsohn as the shapeshifting Skrull Talos, who first appeared in Spider-Man: Far From Home.
Secret Invasion takes full advantage of its extended television format, allowing for a more in-depth exploration of the conspiracy and its impact on the characters. The show delves into the complexities of the Skrulls' motives, shedding light on their existence, history, and the traumatic experiences that have driven them to undertake this audacious infiltration. With nuanced portrayals and a compelling script, the series challenges viewers to question their preconceptions about heroes and villains.
The supporting cast is equally impressive, featuring renowned actors and actresses such as Olivia Colman, Emilia Clarke, Christopher McDonald, and Kingsley Ben-Adir. Each member of the ensemble brings a unique perspective to the narrative, further enhancing the depth and complexity of the story. Their characters are entangled in a web of intrigue, paving the way for shocking twists and unforeseen alliances.
True to Marvel tradition, Secret Invasion also promises a healthy dose of action-packed sequences that will leave viewers on the edge of their seats. With its mix of practical effects and cutting-edge CGI, the show showcases thrilling battles between shape-shifting warriors, breathtaking chase sequences, and intense hand-to-hand combat. Every adrenaline-filled moment is masterfully choreographed to captivate audiences and highlight the tremendous capabilities of the characters.
While Secret Invasion offers plenty of heart-stopping action, it also skillfully explores themes of identity, trust, and sacrifice. As the characters wrestle with their own secrets and past traumas, the series delves into the moral quandaries faced by those who must navigate a world where truth and illusion blur. Amidst the explosive set pieces and intense confrontations, Secret Invasion never loses sight of the human elements that make its story relatable and emotionally resonant.
With its rich storytelling, exceptional performances, and the interconnectedness that has come to define the Marvel Cinematic Universe, Secret Invasion is certain to leave a lasting impression. It invites viewers to delve deep into the inner workings of the MCU, revealing hidden layers and secrets that will forever alter the landscape of this beloved franchise. As the series unfolds, it becomes clear that nothing is as it seems, and no one can be trusted.
In summary, Secret Invasion is an enthralling series that blends mystery, action, and heartfelt drama in a way that only Marvel can deliver. Packed with phenomenal performances, shocking twists, and thought-provoking themes, it sets a new benchmark for storytelling in the superhero genre. With its exploration of trust, loyalty, and the sacrifice necessary to combat insidious threats, this show is a must-watch for both Marvel enthusiasts and those seeking a captivating television experience. Prepare to be drawn into a web of intrigue, where the true enemy may be closer than you think.
Secret Invasion is a series that is currently running and has 1 seasons (6 episodes). The series first aired on June 21, 2023.