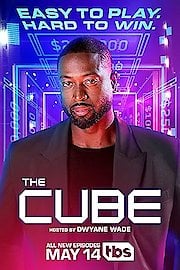 Watch The Cube
The Cube is a game show that premiered on TBS in 2021. It is based on a British game show of the same name. The show is hosted by NBA legend Dwyane Wade and features contestants who must complete challenges inside a large cube-shaped structure. The challenges are designed to test their physical and mental abilities.
The show begins with Wade introducing the contestants and explaining the rules of the game. Each episode features two contestants competing against each other in a series of challenges. The cube is split into different zones, each with its own set of challenges. The contestants must complete as many challenges as possible within a set time limit to win the game.
The cube is equipped with a variety of obstacles and challenges, which include balancing on a narrow platform, sliding down a tunnel, finding hidden keys, and navigating through a maze. The challenges are timed, and the contestants must complete them as quickly as possible to accumulate points. Points are awarded based on the number of challenges completed and the speed at which they are completed.
The challenges are designed to test the contestants' speed, agility, balance, and problem-solving skills. Some require the contestants to work together, while others are solo challenges. The contestants must remain focused and calm under pressure to succeed.
In addition to the challenges, the cube also has a small audience area where friends and family members of the contestants can watch and offer words of encouragement. The audience is also treated to Wade's commentary throughout the game, adding an element of excitement and humor to the show.
At the end of the game, the contestant with the most points is declared the winner and receives a cash prize. The loser is eliminated from the show. If there is a tie, a sudden-death round is played to determine the winner.
One of the unique aspects of the show is the cube itself. The cube is a large structure that takes up the entire studio space. Its sleek design, combined with its intricate lighting and sound effects, creates a futuristic and immersive environment for the contestants and audience.
Another standout feature of The Cube is the use of slow-motion replays during the challenges. The replays allow viewers to see the contestants' movements in detail and add an extra layer of drama to the show.
Overall, The Cube is a thrilling and fast-paced game show that tests the limits of its contestants. With Wade's expert commentary, the cube's impressive design, and the exhilarating challenges, it's a show that's sure to keep viewers on the edge of their seats.
The Cube is a series that is currently running and has 2 seasons (24 episodes). The series first aired on June 10, 2021.