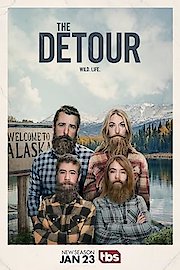 Watch The Detour
TV-MA
2016
4 Seasons
The Detour is a hilarious sitcom that aired on TBS from 2016 to 2019. The show revolves around the Parker family, consisting of Nate and Robin Parker (played by Jason Jones and Natalie Zea) and their two kids, Delilah (played by Ashley Gerasimovich) and Jared (played by Liam Carroll). The family embarks on a road trip across the country, hoping to create happy memories and strengthen their bond. However, as is often the case with families, things quickly start to go awry.
The show is created and produced by Jason Jones and Samantha Bee, who are married in real life. It is loosely based on their own experiences of embarking on a family road trip with their kids. The Detour features a talented ensemble cast of actors, including Daniella Pineda, Phil Reeves, Jeffrey Vincent Parise, Tom Amandes, Judge Reinhold, Maz Jobrani, Weronika Rosati, Wayne Caparas, James Cromwell, Laura Benanti, Mamoudou Athie, Max Casella, Jeff Blumenkrantz, Erik King, Amy Shiels, and Soul.
The Parker family's road trip takes them through a series of mishaps and misadventures that are both hilarious and heartfelt. From getting lost in the desert to accidentally ingesting hallucinogenic drugs, the Parkers go through a lot together. The show is known for its irreverent humor and willingness to tackle taboo subjects. It deals with themes such as sex, drugs, and family dysfunction in a way that is both funny and relatable.
Nate and Robin are the central characters of the show, and their dynamic is the driving force behind most of the comedy. Nate is a well-meaning but somewhat clueless father who often gets himself and his family into trouble. He is prone to impulsive decisions and has a knack for saying the wrong thing at the wrong time. Robin, on the other hand, is the more responsible and level-headed member of the family. She is also fiercely protective of her kids, which sometimes puts her at odds with Nate.
Delilah and Jared are both precocious kids who are wise beyond their years. They are often caught up in their parents' antics but also have their own storylines. Delilah is a gifted artist who struggles to fit in with her peers, while Jared is a budding musician who is determined to make it big one day. Both kids provide a lot of heart to the show and are a joy to watch.
The supporting cast of The Detour is also outstanding. Daniella Pineda plays Vanessa, a stripper who becomes involved with Nate after a wild night in Las Vegas. Phil Reeves plays Edie, a grizzled trucker who helps the Parkers out of some sticky situations. Maz Jobrani plays Babak, a wealthy businessman who becomes involved in a high-stakes game of poker with Nate. Wayne Caparas plays Dwayne, a small-town cop who has a complicated relationship with Robin. These characters all add to the show's unique blend of humor and heart.
Overall, The Detour is a must-watch for fans of comedy and family dramas. It is a show that will make you laugh, cry, and cringe, sometimes all at the same time. The Parkers may not have the perfect family, but they love each other fiercely and are always there for one another. The show is a testament to the resilience of the human spirit and the power of family bonds.
The Detour is a series that is currently running and has 4 seasons (42 episodes). The series first aired on March 27, 2016.