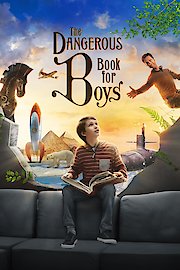 Watch The Dangerous Book for Boys
TV-Y7
2018
1 Season
The Dangerous Book for Boys is a family-friendly television series created by Greg Mottola for Amazon Prime Video. The show follows the life of a young boy named Wyatt McKenna (Gabriel Bateman) who is struggling to cope with the loss of his father. When his dad passes away, he leaves behind a mysterious book entitled, The Dangerous Book for Boys, which contains a wealth of information on all sorts of interesting topics.
Faced with the daunting task of growing up without his father, Wyatt is inspired by the book and turns to its pages for guidance. With the help of his overworked mother, Beth (Erinn Hayes), and his two brothers, Liam (Drew Logan Powell) and Dash (Kyan Zielinski), Wyatt embarks on a journey of self-discovery as he navigates his way through adolescence.
One of the most notable aspects of The Dangerous Book for Boys is its charming and likable cast. Bateman's portrayal of Wyatt is spot-on, capturing the essence of a young boy struggling to find his place in the world without his father. Meanwhile, Hayes delivers a heartfelt performance as a single mother trying to juggle work, parenting, and taking care of her family.
Chris Diamantopoulos rounds out the main cast as Patrick, Wyatt's dad, who appears in a series of dream sequences to help his son through his coming-of-age struggles. Diamantopoulos is a seasoned actor and brings both humor and heart to his role as the ghostly father.
The show is divided into six episodes, each of which is based on a chapter of the titular book. The chapters cover topics ranging from science and history to imagination and creativity. Through these chapters, Wyatt learns valuable lessons about the world around him and how to navigate life's challenges.
The Dangerous Book for Boys is tailored for a family audience, but it's also enjoyable for adults. The show has a nostalgic feel, harking back to a time when kids were allowed to be kids without the burden of technology and social media. It encourages its audience to use their imagination and think creatively, while also imparting important life lessons. It's an uplifting and inspiring show that proves that anything is possible if you have the courage to believe in yourself.
The show's production values are also noteworthy, with lush visuals and a whimsical soundtrack that perfectly complement the story. The show's creators successfully capture the feeling of young boys and what it feels like to be inquisitive and imaginative. The show's approach of integrating learning with entertainment is refreshing and effective, making it ideal for parents looking for shows to watch with their kids.
Thus, The Dangerous Book for Boys is a charming and heartwarming show that promotes adventure, imagination, and self-discovery. The show balances its drama, humor, and emotions well, delivering an enjoyable experience for both children and adults. The Dangerous Book for Boys sets the bar high for future family-oriented content, and it's a must-see for those looking for an inspiring watch that the whole family can enjoy.
The Dangerous Book for Boys is a series that is currently running and has 1 seasons (6 episodes). The series first aired on March 30, 2018.