WWE 24
A series of documentaries exclusive to the WWE Network, featuring a behind the scenes look at the superstars and events of the WWE.
1 Season,

16

Episodes

January 26, 2015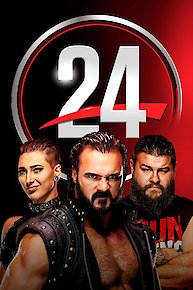 WWE 24 Full Episode Guide
Go behind-the-scenes at the historic RAW 25 show in New York City as WWE Superstars past and present celebrate 25 years of Monday Night RAW!

Female Superstars are redefining sports entertainment with groundbreaking matches and the addition of Ronda Rousey to a star-studded roster.

Episode

14

-

Wrestlemania Orlando

WWE 24 cameras go backstage and follow the Superstars behind the curtain at WrestleMania from Orlando, Florida!

Inspired by family and a shot at redemption - Bill Goldberg experiences incredible highs and lows amid his return to WWE for one final run!

Episode

12

-

Kurt Angle: Homecoming

In an inspirational journey of redemption, Kurt Angle returns home to WWE after an 11-year absence marred by injury and personal problems.

'24' cameras capture Finn Balor's story of triumph and tragedy as the first ever Universal Champion was forced to relinquish his title.

Episode

10

-

WrestleMania Monday

Join WWE's most raucous fans in celebrating the perennial hottest RAW of the year, and go behind-the-scenes at the 2016 WrestleMania Monday!

Episode

9

-

WrestleMania Dallas

WWE 24 cameras go backstage and follow the Superstars behind the record-shattering WrestleMania from Dallas, Texas!

Episode

8

-

The Women's Evolution

This episode of WWE 24, The Women's Evolution details the confluence of forces that have elevated the Women's Division to main event status.

Episode

7

-

SETH ROLLINS: Redesign, Rebuild, Recl...

After sustaining a career threatening injury, Seth Rollins rehabs for 6 grueling months in his quest to reclaim his throne atop WWE.

Episode

6

-

Thank You Daniel

Witness Daniel Bryan's emotional farewell, as WWE 24 cameras bring you unprecedented access inside the last day of his stellar career.

Episode

5

-

WrestleMania 31: Silicon Valley

Go behind the curtain from WrestleMania as Sting makes his debut, Seth Rollins wins his first WWE World Heavyweight Title, and much more!

WWE 24 cameras follow the men and women of NXT in this revealing behind the curtain look at the NXT: TakeOver event from Brooklyn, NY.

Episode

3

-

Roman Reigns - Never Alone

In this edition of WWE 24, we reveal the personal story of this rising star, his family and his memorable experience at Wrestlemania 31.

Episode

2

-

Booker T: Sentenced to Greatness

On WWE 24, Booker T: Sentenced to Greatness, the Hall of Famer reflects on his life's improbable trajectory from prison to WWE stardom.

Episode

1

-

Wrestlemania 30

The premiere episode of the original series, WWE24, takes you behind the spectacle of WrestleMania XXX and its most compelling stories.