X Games Aspen 2013
ESPN kicks off Global X Games in 2013 with Winter X in Aspen, January 24-27. Over 200 of the biggest athletes in action sports from across the globe compete in the sickest snowboarding, snowmobiling and skiing disciplines around. This is THE premier Winter X Games event. Don't miss out, get your season pass today!
1 Season,

9

Episodes

January 15, 2013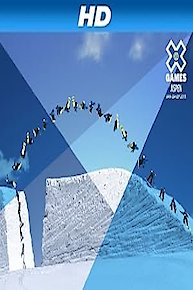 X Games Aspen 2013 Full Episode Guide
Ramona Bruland provides a final recap of X Games Aspen 2013. In addition, she talks with Shaun White about winning his sixth gold medal in Snowboard SuperPipe.

Episode

8

-

Best of Snowmobile

Making a machine that weighs over 450 pounds dance in mid-air is no small feat. X Games Aspen 2013 saw some of the best to ride the Snowmobile in full effect. SnoCross titan Tucker Hibbert cemented his status as one of the most dominant athletes in X Games, Levi LaVallee continued to stretch the limits of physics and Daniel Bodin inspired awe in Best Trick.

Episode

7

-

Best of Snowboard

The best snowboarders in action sports brought their game faces to X Games Aspen 2013. However, all eyes were on two of the very best in the snowboarding world. Shaun White tried to make it six straight gold medals in Mens Snowboard SuperPipe. In addition, Kelly Clark was aiming for the first three-peat in Womens Snowboard SuperPipe.

Nowhere in the action sports stratosphere does the possibility needle move forward more often than at the X Games. It was never more evident than at X Games Aspen 2013 as the very best skiers just went crazy! David Wise, Simon Dumont, Henrik Harlaut, Kaya Turski, Dara Howell and others hosted a ski party that will be remembered for a very long time.

Episode

5

-

Best of Day 4

A recap of the best action from the final day of X Games Aspen 2013. Tucker Hibbert and Shaun White try to make it six straight gold medals in their respective events, Hibbert in the SnoCross and White in the Mens Snowboard SuperPipe.

Episode

4

-

Best of Day 3

Day 3 of X Games Aspen 2013 delivers the drama. Shaun White and Mark McMorris square off in Mens Snowboard Slopestyle, Kelly Clark aims for the history books in Womens SuperPipe and Levi LaVallee looks to maintain his Snowmobile dominance in the Speed and Style event.

Episode

3

-

Best of Day 2

A recap of the best action from X Games Aspen 2013 Day 2 including the Mens Ski SuperPipe and Snowboard Big Air featuring superstars Torstein Horgmo and Mark McMorris.

Episode

2

-

Best of Day 1

Day 1 of X Games Aspen 2013 kicks off under the lights and falling snow as Levi LaVallee aims to make a statement in the Snowmobile Freestyle and Shaun White begins the quest for his sixth straight Snowboard SuperPipe gold medal.

Episode

1

-

2012 Slammed / Stomped

Host Keir Dillon breaks down the most heart-stopping and painful moments of Winter X Games 2012.