Watch Spy Kids 4: All the Time in the World
The Spy Kids 4: All The Time in the World is a sequel to Spy Kids films I, II, and III. However this movie can stand on its own. At the beginning of this movie we see an action packed scene where a pregnant spy, Marissa chases down bad guys and then retires to raise her family. What you need to know is that there were Spy Kids prior to this movie but they were closed down due to budget cuts. At OSS, the secret agency headquarters, there exist artifacts of the former Spy Kids' action equipment. Unfortunately for the twins, Rebecca and Cecil they are inactivated.
Rebecca and Cecil are her, Marissa's, step children, who is the aunt to the original Spy Kids. She is married to Wilber who's a reporter seeking to expose spies. As the story unfolds we find that the pendant, the Chronos Sapphire that Marissa gives to Rebecca is the key to an Armageddon plot by Tick Tock and the time keeper. Many chase scenes and escapades ensue between these kids and bad guys.
Marissa's former spy profession is revealed when the step kids are under attack. An automatic security system is secretly in place in their home with the dog, Argonaut a robot assigned to protect them. This system is triggered and now the children believe their aunt is cool. They arrive safely at OSS headquarters and explore the former Spy Kids' room. The now grown up former Spy Kids are asked to take action against this international villain. They are stymied by the time keeper and his bad guys.
The step children Rebecca and Cecil, meanwhile safely at OSS are called on their first assignment; they must stop the time keeper, hold off Armageddon and get the Chronos Sapphire. The kids must prove to the world that they deserve to be the next generation Spy Kids. They must save the world in time.
Cast

Studio

Director

Robert Rodriguez

Language

English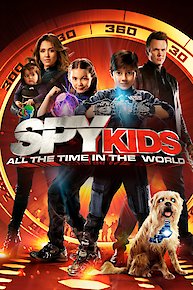 More Like
Spy Kids 4: All the Time in the World
Spy Kids 4: All the Time in the World News
Are 4-D Movies the Next Big Thing?
3-D movies seem to be here to stay, as the craze only continues. So naturally, the next step is 4-D movies. What are they? When will they get here? Click through to find out.
Jessica Alba Stars In 'Spy Kids: All The Time In The World' Trailer
The fourth installation of "Spy Kids" hits theaters in 3D August 19th. This one stars tasty mamma Jessica Alba ("Sin City," "Machete," "Fantastic Four") as an ex-spy-turned-wife-and-stepmother (to a spy-hunting TV reporter) whose kids have just been recruited into the Spy Kids organization. Check out the trailer here.

Watch Spy Kids 4: All the Time in the World Trailer