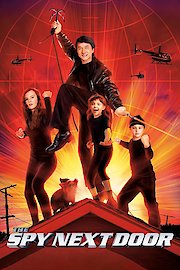 Watch The Spy Next Door
"Spying is easy, Babysitting is hard."
PG
2010
1 hr 29 min
27
The Spy Next Door is a 2010 family-friendly action-comedy movie starring Jackie Chan, Amber Valletta and Billy Ray Cyrus. It follows the story of Bob Ho (Jackie Chan), a former CIA agent who decides to retire from the agency in order to settle down and start a family with his girlfriend Gillian (Amber Valletta). Despite his intentions to lead a normal life, Bob's past comes back to haunt him when he is asked to babysit his neighbor's three rambunctious children while their parents are away. The assignment proves to be more challenging than expected when one of the children accidentally downloads a top-secret formula from Bob's computer, putting them in danger with the Russian terrorists who are seeking the information. As Bob races against time to protect the children and retrieve the stolen formula, he must also navigate through the complexities of parenthood, juggling his duties as a babysitter and a spy while earning the trust and respect of the three children he is responsible for. Throughout the movie, Jackie Chan delivers his trademark action sequences, showcasing his incredible martial arts skills and stunts as he battles the villains in daring chase scenes and fights. However, the movie also showcases his comedic talent, as he provides many laughs and comic relief with his zany antics and physical humor. The Spy Next Door touches on themes of family, love, and loyalty, as Bob must choose between his obligations to the CIA and his responsibility to the children he has grown to care for. Along the way, he also learns valuable lessons about parenting and the importance of honesty and communication in relationships. In addition to Jackie Chan's standout performance, Amber Valletta delivers a solid performance as Bob's girlfriend, Gillian. She serves as a grounded and compassionate foil to Bob's humorous and sometimes erratic character, providing a balance to the film's tone. Billy Ray Cyrus also makes an appearance as the children's father, in a small but memorable role that showcases his talents as an actor. Overall, The Spy Next Door is an entertaining and family-friendly movie that delivers on action, comedy, and heart. It is a fun and light-hearted adventure that will keep audiences of all ages engaged and entertained.