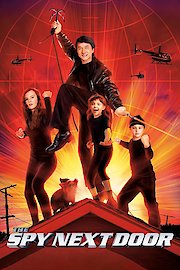 Watch The Spy Next Door
"Spying is easy, Babysitting is hard."
PG
2010
1 hr 29 min
27
In the movie, The Spy Next Door, Jackie Chan is the main character as Bob Ho a former spy leading a double life. He is trying to put his former life behind him. Bob Ho moves next door and starts dating Gillian(Amber Valletta). Gillian is a single mom raising three kids and the kids do not care for Bob. Gillian finds herself in a bind when she gets a call about her father and no one to watch her three kids. Bob volunteers not knowing what he is about to get into. He is quickly overwhelmed with the hijinks that ensue from Farren, Ian, and Nora. One of the children unknowingly downloads a file. One of Bob's enemies finds out and the chase is on. Bob is not only forced into protecting these kids, but also keep his identity a secret. He reluctantly requests the help from his fellow partner Colton James (Billy Ray Cyrus)in keeping his identity a secret. He is not to sure about bringing Colton in, but has no one else to turn to. Bob is having a hard time keeping his identity a secret from the kids. The cat is out of the bag, when Bob can no longer keep it a secret that he is a spy. Gillian and the kids lose all trust in Bob. Bob ends up leaving, but two of Gillian's kids follow him. They end up back at Gillian's house in time to see Russian spies breaking into her house. Bob rushes in and with some fantastic karate moves beat the Russian spies. To make matters worse, Bob discovers his faithful boss Glaze(George Lopez) is also leading a double life. Bob had been trusting the wrong guy the whole time. Gillian has a change of heart and gets back together with Bob. Fast forward down the road Bob proposes and they get married. Bob reveals that is real name is not Bob.