Watch Operation Osmin
Operation Osmin is a reality show in which fitness trainer Osmin Hernandez trains out-of-shape challengers and tries to get them into shape in 30 days. The challengers are a cross-section of the American public, and include people from all walks of life. Osmin Hernandez was born in Cuba and was part of an elite Cuban military unit. After being kicked out of the Cuban military, he escaped Cuba on a raft and settled in the United States, where he eventually became a personal trainer. His former clients include Matt Damon and Anna Kournikova.
An unusual feature of Operation Osmin is that the training does not take place in gyms or traditional fitness clubs. According to Osmin, the best places to train are outdoors in whatever areas are available. He has summarized this idea by saying "The world is your gym." As a result, he has trained challengers in streets and parking lots and sometimes in inclement weather.
Osmin, who has been called "the world's most psychotic trainer," is known for his rigorous training style. Before deciding to train someone for Operation Osmin, Osmin subjects the candidate to a grueling interview in which they are pressured to disclose all of their faults and weaknesses. After they are accepted for training, challengers are restricted to a diet of fish, salad, and water. Osmin claims that this diet is healthy and can help people with diabetes and high cholesterol. Candidates often have to perform unusual exercises which push them to the limits of their stamina and endurance.
The creators of Operation Osmin are Eric Evangelista and Osmin Hernandez. It was produced by Hot Snakes Media. The first season consisted of 10 episodes, with a running time of 60 minutes each, which were broadcast on nuvoTV.
Monday 9:00 PM et/pt on nuvoTV

2 Seasons,

23

Episodes - Currently Airing

7/10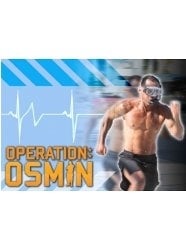 Operation Osmin

Full Episode Guide
Season 2
(1 clip available)
Episode 13 - Plus-Sized Sexy

Episode 12 - Cuffed & Stuffed

Cops Don and John have braved some strange situations in the line of duty, but things are about to get really crazy!

Episode 11 - Bikini Body Dreams

A hot body and a backbone is what Lichele wants so that people treat her right. But when Osmin catches her cheating, he makes her chop her way through a chimp-filled jungle.

Episode 10 - Cheater Blues

Gorgeous party girls Lori and Jalene want to get fit for a cruise, but they may be too much for Osmin to handle!

Episode 9 - Baby Mama Drama

Episode 8 - Flabby Night Lights

Episode 7 - Pole Dancer Diet

Episode 6 - Family Betrayals

Episode 5 - Centerfold Slimdown

Episode 4 - Hot for Hollywood

Episode 3 - Fire-Hot Fitness

Episode 2 - Osmin Obsession

Episode 1 - Lawyer in Lust
If You Like Operation Osmin, Then Try...