Watch Operation Repo
Today's difficult economic times make paying bills difficult for many people, and one of the more expensive bills that people must deal with is a car payment. Operation Repo allows viewers to see what happens when the people whose cars must be repossessed do not agree with the people that come to collect the vehicles. Although the repossessions shown throughout the show stem from actual incidents, the TV show's cast members are simply recreating past events and adding a bit of drama to the stores.
Yes, that means that the show is staged, but it does not take away from the fact that in many cases, the vehicles that were repossessed did have arguments, physical altercations, and even owners that were so reluctant to turn their vehicles over that they attempted foolish stunts like driving away after their car was hooked to the truck, destroying the vehicles, and even making threats or putting their hands on the repossession agents.
First aired on Telemundo, Operation Repo has been airing in English since 2008, and ended its eighth season in April of 2011. Though a few new faces have been added to the cast over the years, and some members have left, the basic crew has remained the same. Lou, Sonia, Lyndah, Froy, Matt and Ashley comprise the main crew while newcomers Carlos and Ronnie still have to work their way up the ranks to becoming as well known as the others. These cast members have recreated many different repossessions, and some are just downright strange.
Not only having to collect cars and trucks, the crew has had their fair share of other items with overdue payments. Everything from boats and ATVs to tanning beds and even hot air balloons has come to the attention of these men and women throughout the years, and although odd, they have done the necessary work to reclaim them from the owners with delinquent owners.
As the economy shows no signs of turning itself around anytime soon, it seems that the Operation Repo crew will have their hands full for the foreseeable future. The fact that the repossessions are on the behalf of different finance agencies makes it uncertain as to what the next adventure for the crew will be, but what the can promise is entertainment. Their large fan base and number of viewers seems to ensure that as long as there are vehicles with unpredictable and bad tempered owners being repossessed, the team from Operation Repo will be there.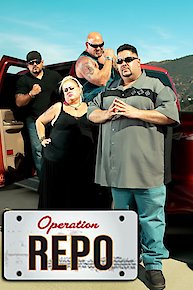 Operation Repo Video Clips & Extras
Operation Repo

Full Episode Guide
Episode

6

-

All in the Same Boat

A professional stunt driver slips through Froy and Sonia's grasp, sending them on a violent high speed chase. Matt offends a pretty RO who seeks womanly revenge, and Froy and Carlos go undercover at a lowrider show. And when Sonia announces a dangerous plan to save the company from the lawsuit, the team must decide whether they're willing to risk it all.

A repo goes awry for Sonia; a hovercraft owner with an attitude; Sonia tells the team about the sale of the company.

Episode

4

-

The Magic Touch

Sonia and Froy interrupt a hayride full of yuppies, who refuse to take no for an answer; Lou and Sonia reclaim a car from a perplexed homeowner.

Episode

3

-

It Takes Two to Lambo

A hoarder with a secret tries to pull a fast one on Matt and Froy, and Sonia takes sides in a dramatic lover's quarrel. Froy finally gets a shot at recovering the Lamborghini, but will his ingenious plan come crashing down around him?

Episode

1

-

First Rule of Repo
Episode

13

-

Mile High Mayhem

Episode

12

-

Boys With Toys

Episode

11

-

Phi Alpha Fail

Episode

9

-

Hayseed Inferno

Episode

7

-

Sugardaddy Shakedown

Episode

6

-

Doomsday Prep

Episode

5

-

Bouquets and Blowtorches

Episode

4

-

Go Big or Go Home

Episode

3

-

Viva Las Vegas!

Episode

1

-

Lou's Big Gamble
If You Like Operation Repo, Then Try...