Watch Paw Patrol
This Nick Jr. show is based on a boy named Ryder and his team of six different breeds of pups. Ryder and his pups: Chase, Zuma, Skye, Rocky, Rubble, and Marshall, will lend a paw and save the day on Adventure Bay. When Ryder's pup pad alerts to a problem on the island of Adventure Bay, the paw patrol leap into action. Zooming to the rescue with their own super powered vehicles and their own type of expertise to help with whatever problem comes up. Fire, water, land, or sky, these pups will have a solution to any issue that may arise.
Weekdays at 9:00 AM & 12:30 PM on Nick

6 Seasons,

76

Episodes - Currently Airing

August 12, 2013

10

/
Watch Full Episodes of Paw Patrol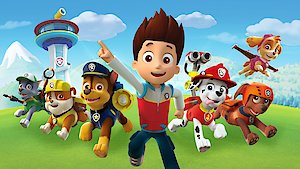 Season 6 Episode 11
Pups Save a Giant Pl... (23:00)
Season 6 Episode 10
The Pups Winter Wond... (23:00)
Season 6 Episode 9
Pups Get Skunked/Pup... (23:00)
Season 6 Episode 8
Pups Save the Glidin...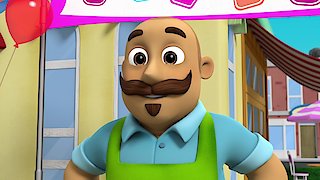 Season 6 Episode 7
Pups in a Jam/Pups S...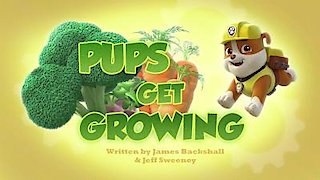 Season 6 Episode 6
Pups Get Growing/Pup... (23:00)

Paw Patrol

Full Episode Guide
Season
6
11 full episodes
Episode

11

-

Pups Save a Giant Plant/Pups Get Stuc...

Mayor Goodway's gesture of goodwill gift grows wildly out of control when it's planted in the wrong place. Time for a transplant! Metal mayhem ensues when Marshall's Fire Truck becomes mysteriously magnetized.

Episode

10

-

The Pups Winter Wonder Show

The Adventure Bay Snow-Show is in danger of being a No-Show when Mayor Humdinger escapes with the feature act, Cap'n Turbot's performing penguins. It's up to the Paw Patrol to return the penguins so that the show can go on!

Episode

9

-

Pups Get Skunked/Pups and a Whale of ...

When Everest gets sprayed by a skunk, the pups delicately try to tell her she needs a bath!The pups put a new spin on freeze tag after they fly far north to help free a baby whale.

Episode

8

-

Pups Save the Gliding Turbots/Pups Sa...

When Francois and Cap'n Turbot become stranded on a remote island, Ryder and the pups fly in to the rescue.It's a double daring mid-air rescue as Mayor Goodway's first flying lesson goes sideways.

Episode

7

-

Pups in a Jam/Pups Save a Windsurfing...

It's the annual Jamboree Jamfest, but all of the fruit is carried off by ants!Zuma is on a wacky windsurfing water rescue after Cornelius the pig decides to go for a ride on a borrowed windsurfing board.

Episode

6

-

Pups Get Growing/Pups Save a Space To...

Pups Get Growing/Pups Save a Space Toy: Fertilizer causes Yumi's crops to sprout humongous veggies.The Paw Patrol draws a message on Farmer Al's field to let their friends the Space Aliens know the pups found their lost toy!

Episode

5

-

Pups Bear-ly Save Danny/Pups Save the...

Daring Danny X is at it again! This time he's stuck high in a tree over a deep canyon and is hotly pursued by hungry bears.Mayor Humdinger uses his Kit-tastrophe Crew to sabotage Mayor Goodway's perfect petals for the tulip contest. Night guards Rocky and Chase to the rescue!

Episode

4

-

Pups Bear-ly Save Danny

Mayor Humdinger drops off a 'gift' to Mayor Goodway, a flower that spreads a horrible stink when it blooms. A UFO has just splashed down in the bay!

Episode

3

-

Pups Save A Robosaurus/Pups Save A Fi...

A robotic dinosaur comes alive, and the pups have to locate it and bring it back to its home. / The pups film a movie for a film festival, but their hard work is stopped by Daring Danny X's outrageous stunt.

Episode

2

-

Parroting Pups/Merpups Save the Turbo...

Rocky loses his voice and can't bark out his puppack tools, but Matea the parrot has no problem doing it for him.The Magical Mer Moon means the Merpups are back!

Episode

1

-

Tracker Joins the Pups!

Ryder and the pups are on their way to the jungle to help Carlos move a massive relic to the museum. When Carlos falls into a deep pit, he is saved by a big eared pup named Tracker.
Season
5
13 full episodes
Episode

13

-

All Star Pups!/Pups Save Sports Day

It's monkey mayhem as pups play kickball against Raimondo's team. The All Star Pups are ready to compete in the summer sports day when Daring Danny X turns the field into an ice rink!

Episode

12

-

Pups Save Old Trusty/pups Save A Pony

Ryder investigates when jets of water start springing up all over town

Episode

11

-

Pups Save A School Bus/Pups Save The ...

When all the tires on the Adventure Bay school bus blow out, Rocky has to help repair them. Meanwhile, the kids still need to get to school, so Ryder volunteers to use the Paw Patroller.

Episode

10

-

Pups Save The Polar Bears/a Pup In Sh...

Jake and Everest help Cap'n Turbot count polar bears, when the Flounder accidentally cracks a sheet of ice - setting a couple polar bear cubs out onto ice floes heading out to open water.

Episode

9

-

Pups Save Apollo/Pups Save the Hippos

Rubble dreams about saving his idol, Apollo the Super-Pup, from an evil Spider King.

Episode

8

-

Pups Save a Goldrush/Pups Save the Pa...

When a grizzled old prospector discovers gold in Adventure Bay, it's a bona-fide, dog-gone, gold rush!When Mayor Humdinger and his Kit-tastrophe Crew try to drive off in the PAW Patroller, the chase becomes a rescue!

Episode

7

-

Pups Save a Dragon/Pups Save the Thre...

The town play is sure to be a hit with Katie as a princess and Marshall playing as the back half of a dragon.

Episode

6

-

Pups Save Daring Danny X/Pups in a Fi...

When a boy named Danny sees Ryder perform an incredible stunt during a rescue, it inspires him to become a daredevil. Changing his name to Daring Danny X, the boy attempts to jump 10 cars with his ATV.

Episode

5

-

Pups Save Alex's Mini-Patrol/Pups Sav...

Impressed by the Paw Patrol's rescues, Alex sets up his own mini-Patrol and recruits Chickaletta, Cali, Turtle, and Bunny.

Episode

4

-

Pups Save Friendship Day

While celebrating Friendship Day, the pups spring into action to prevent Mayor Humdinger from ruining Adventure Bay's reputation as the friendliest town on the map.

The Paw Patrol takes to the sky in their all new Air Patroller airplane! When an active volcano spews out hot lava everywhere and threatens Franciois and Cap'n Turbot, the PAW Patrol must bring them back to safety.

Episode

2

-

Pups Save the Soccer Game/Pups Save a...

When Mayor Humdinger challenges the Adventure Bay team to a soccer match, Ryder and the Paw Patrol are called in to play. Marshall thinks his new collar is bringing him good luck, so he takes risky chances to rescue Hootie.

Episode

1

-

Pups Save a Snowboard Competition/Pup...

Jake and Everest are excited today's the day of the big Snowboard Competition, until they look outside and see the course is completely buried under blanket of snow.
Season
4
13 full episodes
Season
3
13 full episodes
Season
2
13 full episodes
Season
1
13 full episodes
If You Like Paw Patrol, Then Try...
Most Popular Paw Patrol Episodes
Season 6 Episode 10

The Pups Winter Wonder Show

12/02/2016

Season 6 Episode 7

Pups in a Jam/Pups Save a Windsurfing Pig

11/11/2016

Season 6 Episode 1

Tracker Joins the Pups!

9/16/2016

Season 6 Episode 11

Pups Save a Giant Plant/Pups Get Stuck

1/19/2017

Season 5 Episode 12

Pups Save Old Trusty/pups Save A Pony

5/26/2016