Watch Pro Football Talk
Series Length:
2 Seasons,

83

Episodes
Schedule:
Monday, Tuesday, Wednesday, Thursday, Friday 5:00 PM et/pt on NBC Sports Network
Description:
Mike Florio and Erik Kuselias hosts a daily weekday TV program on NBC Sports Network. It will feature concentrated NFL insight from Florio and Kuselias as well as a roster of NBC Sports football commentators, including Rodney Harrison, Hines Ward, Doug Flutie, Ross Tucker, Amani Toomer, and Peter King, among others. Pro Football Talk will also touch on injuries, fantasy football and officiating.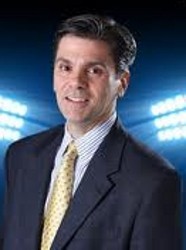 Pro Football Talk

Full Episode Guide
Episode 64 - Season 2, Episode 64

First Aired: December 12, 2013

Summary not available

Episode 63 - Season 2, Episode 63

First Aired: December 11, 2013

Summary not available

Episode 62 - Season 2, Episode 62

First Aired: December 10, 2013

Summary not available

Episode 61 - Season 2, Episode 61

First Aired: December 09, 2013

Summary not available

Episode 60 - Season 2, Episode 60

Episode 59 - Season 2, Episode 59

Episode 58 - Season 2, Episode 58

Episode 57 - Season 2, Episode 57

Episode 56 - Season 2, Episode 56

Episode 55 - Season 2, Episode 55

Episode 54 - Season 2, Episode 54

Episode 53 - Season 2, Episode 53

Episode 52 - Season 2, Episode 52

Episode 51 - Season 2, Episode 51

Episode 50 - Season 2, Episode 50

Episode 49 - Season 2, Episode 49

Episode 48 - Season 2, Episode 48

Episode 47 - Season 2, Episode 47

Episode 46 - Season 2, Episode 46

Episode 45 - Season 2, Episode 45

Episode 44 - Season 2, Episode 44

Episode 43 - Season 2, Episode 43

Episode 42 - Season 2, Episode 42

Episode 41 - Season 2, Episode 41

Episode 40 - Season 2, Episode 40

Episode 39 - Season 2, Episode 39

Episode 38 - Season 2, Episode 38

Episode 37 - Season 2, Episode 37

Episode 36 - Season 2, Episode 36

Episode 35 - Season 2, Episode 35

Episode 34 - Season 2, Episode 34

Episode 33 - Season 2, Episode 33

Episode 32 - Season 2, Episode 32

Episode 31 - Season 2, Episode 31

Episode 30 - Season 2, Episode 30

Episode 29 - Season 2, Episode 29

Episode 28 - Season 2, Episode 28

Episode 27 - Season 2, Episode 27

Episode 26 - Season 2, Episode 26

Episode 25 - Season 2, Episode 25

Episode 24 - Season 2, Episode 24

Episode 23 - Season 2, Episode 23

Episode 22 - Season 2, Episode 22

Episode 21 - Season 2, Episode 21

Episode 20 - Season 2, Episode 20

Episode 19 - Season 2, Episode 19

Episode 18 - Season 2, Episode 18

Episode 17 - Season 2, Episode 17

Episode 16 - Season 2, Episode 16

Episode 15 - Season 2, Episode 15

Episode 14 - Season 2, Episode 14

Episode 13 - Season 2, Episode 13

Episode 12 - Season 2, Episode 12

Episode 11 - Season 2, Episode 11

Episode 10 - Season 2, Episode 10

Episode 9 - Season 2, Episode 9

Episode 8 - Season 2, Episode 8

Episode 7 - Season 2, Episode 7

Episode 6 - Season 2, Episode 6

Episode 5 - Season 2, Episode 5

Episode 4 - Season 2, Episode 4

Episode 3 - Season 2, Episode 3

Episode 2 - Season 2, Episode 2

Episode 1 - Season 2, Episode 1
Episode 19 - Season 1, Episode 19

Episode 18 - Season 1, Episode 18

Episode 17 - Season 1, Episode 17

Episode 16 - Season 1, Episode 16

Episode 15 - Season 1, Episode 15

Episode 14 - Season 1, Episode 14

Episode 13 - Season 1, Episode 13

Episode 12 - Season 1, Episode 12

Episode 11 - Season 1, Episode 11

Episode 10 - Season 1, Episode 10

Episode 9 - Season 1, Episode 9

Episode 8 - Season 1, Episode 8

Episode 7 - Season 1, Episode 7

Episode 6 - Season 1, Episode 6

Episode 5 - Season 1, Episode 5

Episode 4 - Season 1, Episode 4

Episode 3 - Season 1, Episode 3

Episode 2 - Season 1, Episode 2

Episode 1 - Season 1, Episode 1