Watch The New Adventures of Nanoboy
A boy named Oscar has a big secret that he has been keeping from everyone. Oscar's secret is that he is Nanoboy. He can transform and turn into the smallest super hero ever. He battles bacteria, viruses, and other microorganisms.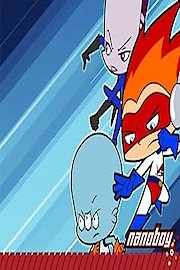 The New Adventures of Nanoboy

Full Episode Guide
Episode 13 - Hail To The King / Sound Of Trouble

Isaac is trouble for the Nanosquad; Microcosmos is threatened.

Episode 12 - The Good, The Bad And The Spit / Rise...

Episode 11 - Lost In Cyberspace / Bog To The Futur...

Episode 10 - Czar Zar's New Clothes / Return Of Th...

The right wardrobe is needed when ruling the Microcosmo's.

Episode 9 - Bog's Bogus Buddy / Hola! E! Coli!

Episode 8 - Finding Neurons / Green House Rock

Episode 7 - Day Of Germinator / Groovy Attraction

Episode 6 - Bite Night / Sedation Island

Episode 5 - The Fabulous Ferro Show / Enter Skeet...

Episode 4 - Nanoboy's Biggest Fan / Nano Elders

Episode 3 - Smartybot / Bogzilla

Episode 2 - Mitomorphasis / Worms

Episode 1 - Attack Of The Sparkling Bling Bling /...
If You Like The New Adventures of Nanoboy, Then Try...