Watch The Walking Dead
Since its conception, The Walking Dead has been redefining the zombie genre. To some, it created the zombie genre. In the days, months, and years after the fall of civilization, a small, savvy, desperate and disparate group of nobodies struggles to keep themselves, along with their hope, alive in the American south. Their leader, police chief Rick Grimes, is a stoic and determined man, who's seen the best and the worst in people. He'll stop at nothing to secure the safety of his family and friends. As the troop begins to adapt to a world inhabited by the walking dead, they soon realize that the true challenge of survival lies in the evil that lurks in the power-hungry hearts of their fellow man.
Sunday 9:00 PM et/pt on AMC

7 Seasons,

93

Episodes - Currently Airing

October 31, 2010

10

/
Watch Full Episodes of The Walking Dead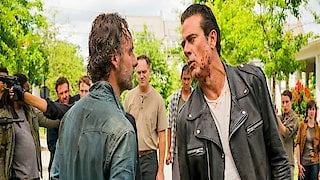 Season 7 Episode 8
Hearts Still Beating
Season 7 Episode 7
Sing Me a Song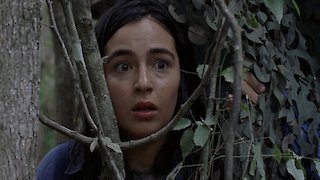 Season 7 Episode 5
Go Getters
Season 7 Episode 4
Service
Season 7 Episode 3
The Cell

Watch Episodes
News
Clips & Extras
The Walking Dead

Full Episode Guide
Season
7
8 full episodes, 16 clips available
Episode

8

-

Hearts Still Beating

Negan's unwelcome journey to Alexandria carries on as other members rummage for supplies; things quickly spiral out of control.

Episode

7

-

Sing Me a Song

A closer view of the Sanctuary and the world of the Saviors; members of Alexandria search for supplies.

Someone stumbles upon a new society different from anything known before.

Saddled with grief and surrounded by foes, members of the crew attempt to find safety at the Hilltop before it's too late.

The remaining members of the gang try to keep it together in Alexandria; they get a sobering visit.

A new crew of survivors seem to have everything in their impressive community; but, there is a price.

For many familiar faces, a new, well-established neighborhood appears too good to be true.

Episode

1

-

The Day Will Come When You Won't Be

The seventh season opens with Rick and the group kneeling powerless before Negan and his crew. Negan's actions will terrorize those who survive.
Season
6
16 full episodes, 58 clips available
Episode

16

-

Last Day on Earth

In the season finale, Rick and the group venture outside the walls of safety to save one of their own. On the road, they encounter Negan, who issues them a brutal warning.

When someone goes missing in Alexandria, the community goes on high alert, and search parties venture out.

Episode

14

-

Twice as Far

Two separate groups leave Alexandria for supplies, and while both worry over the future of the community, they will face immediate danger.

Episode

13

-

The Same Boat

With no hope of security in Alexandria, Rick and his group of survivors soon find a bigger world with new dangers and new opportunities.

Episode

12

-

Not Tomorrow Yet

Rick and the group realize the only way to maintain the peace of Alexandria is to fight a new enemy. However, this time, the group might be outmatched.

Episode

10

-

The Next World

While trying to escape Alexandria, Rick and his group meet trouble when sudden noise draws walkers towards them.

Episode

8

-

Start to Finish

Trouble returns to Alexandria after a short period of peace. Only now, the danger may be too much to handle.

At last, Alexandria is able to start putting itself back together; peace is accepted between the two companies.

Episode

6

-

Always Accountable

While trying to go back to Alexandria, Daryl, Abraham and Sasha encounter multiple obstacles and threats.

After a lot of stumbling blocks, the feel in Alexandria turns bleak for the sheltered inhabitants.

Episode

4

-

Here's Not Here

Morgan tells the captured wolf about his journey from King County to Alexandria, where he met a lone survivor with a code.

The group attempt to return home, but will they all make it?

Just as things start to get back to normal, the Alexandrians are faced with a new issue.

Episode

1

-

First Time Again

In the season 6 premiere, Rick and the others struggle to adjust in Alexandria. A new threat occurs.
Season
5
16 full episodes, 55 clips available
Season
4
16 full episodes, 71 clips available
Season
3
16 full episodes, 36 clips available
Season
2
13 full episodes, 2 clips available
Season
1
7 full episodes, 37 clips available
If You Like The Walking Dead, Then Try...
Most Popular The Walking Dead Episodes
Season 7 Episode 1

The Day Will Come When You Won't Be

10/23/2016

Season 7 Episode 8

Hearts Still Beating

12/11/2016

Season 7 Episode 4

Service

11/13/2016

Season 7 Episode 3

The Cell

11/06/2016

Season 7 Episode 2

The Well

10/30/2016
The Walking Dead News
Why Delayed Viewing Can't Save 'Walking Dead'
Faithful fans of The Walking Dead are not as concerned as the rest of us about the series' declining ratings. They often cite the millions of viewers who watch each episode in the days after it originally airs as a reason to not be alarmed by the drop in same-day ratings. Those big delayed-viewing numbers might not be the series' salvation, however.
First, the good news. TWD is still the highest-rated scripted TV series among younger viewers. And it still sees a huge surge in viewership during the three-day period after each episode's air date, much more so than most other series.
The bad news is that as same-day ratings have fallen, the series' three-day ratings have fallen, too. TWD is still seeing three-day viewing growth of above 40 percent, but that's been fairly typical for the series. That means that the almost 7 million viewers the series lost between its season premiere and its mid-season finale are not just choosing to delay their viewing of each episode; they are choosing not to watch the episodes at all. They look, at this point, as if they might be gone for good.
Advertisers see another big problem with relying on delayed viewing. Most TWD viewers skip over ads when they watch an episode they've DVRed, and advertisers hate that. They hate it so much that they keep track of ad viewing more closely than they keep track of total viewership or demographic ratings for each episode. And according to the metric that advertisers care about, TWD isn't doing well at all.
There's no way to argue that TWD isn't still more popular than any other scripted series on TV. But there's also no way to argue that, by its own very high standards, the series' seventh season has been anything but immensely disappointing.
Did 'Walking Dead' Mid-Season Finale Lure Viewers Back?
Last week, it looked as if The Walking Dead might have stabilized its ratings collapse by airing, for the first time this season, an episode that didn't draw fewer viewers than the episode that came before it. Last week's episode, though, only ticked upward slightly in terms of viewership, and hope for a redemption of the series' season shifted to this week's mid-season finale.
The last episode before the winter hiatus has always been a reliable winner for TWD, and there was an expectation that many of those millions of viewers who'd tuned out so far in season seven would come back for the mid-year climax.
Unfortunately, that didn't happen. The mid-season finale did see a ratings gain compared to last week, but it was a miniscule one. The episode's 5.0 rating in the 18-49 age demographic was statistically a tie with last week's 4.95 rating, and this week's total viewership of 10.58 million is barely bigger than last week's 10.48 million.
The good news is that TWD avoiding having the lowest-rated mid-season finale since 2011, but again, not by much. The ratings for this season's mid-year finale are on a par with those of season three's.
At this point, it's beginning to look like TWD might have shed for good the millions of fans it gained during its peak years of 2014-2016. It's still one of the most-watched series on TV, but will it ever again be a must-watch cultural phenomenon? We'll have to keep our eyes on the second-half premiere in February for the next clue to the series' future.
'Walking Dead' Limps Toward Mid-Season Finale
For the first time this season, the most recent episode of The Walking Dead didn't experience a ratings decline from the previous episode. That's the good news. The bad news is that this week's ratings were virtually unchanged from last week's season-low marks, and the series doesn't have much momentum going into next week's mid-season finale.
This week's episode, titled "Sing Me a Song," nailed down a 4.95 rating in the 18-49 age demographic. That's up just one percent from last week's 4.9 rating. Total viewership was up a similar margin, with 10.48 million viewers compared to last week's 10.4 million. The ratings end a consistent week-to-week drop since the season premiere in October.
The episode's ratings remain at a level not seen since 2012, however. The series has established a pattern in previous seasons of rising ratings as it approaches its mid-season hiatus, but this season's downward ratings trend is making a big turn-around for next week's episode seem unlikely.
On the bright side, "Sing Me a Song" got a little more critical love than recent episodes have, with nearly three out of four critics finding some nice things to say about the episode.
After next week's episode, TWD will go dormant until February 2017.
Did 'Walking Dead' Bounce Back This Week?
Commentators have been watching ratings for The Walking Dead carefully this season, trying to determine if the series' unprecedented slide is an indication of serious instability. Optimists have held on to the hope that ratings would improve as the series nears its mid-season break. Those hopes were dealt a major blow with the release of ratings numbers for the latest episode.
Last Sunday's episode, the sixth episode of the seventh season, earned a 4.9 rating in the all-important 18-49 age demographic. That's a season low and a drop of four percent from the previous week's episode. Every episode of the season after the premiere episode has set a new season low point, and this week's rating represents a disastrous 42 percent drop from the season's first episode. No other season of the series has seen such a precipitous and consistent decline.
Perhaps even more concerning is the episode's total viewership, which also set a season-low mark with 10.4 million viewers. You have to look all the way back to the sixth episode of the third season in 2012 to find a less-watched episode. Season seven also now has the lowest average per-episode ratings of any season since the third.
Every season of TWD so far has seen an uptick in ratings at the end of the season's first half. Season seven now has two episodes left to reverse a trend that's becoming more dire with each passing week.
Death Watch: 'Walking Dead' Ratings Show No Sign of Rebound
For those who want to argue that the ratings slide for The Walking Dead this season is just an aberration that will turn around soon, this week has not brought good news. The fifth episode of the series' seventh season fell from the previous week, just as every episode of this season has done so far. And now the series' rating are at their lowest point since its third season.
This week's episode drew a 5.1 rating in the 18-49 age demographic, a drop of four percent from the previous week. More significant, though, is the episode's drop of almost 40 percent from the season's debut episode, marking the steepest ratings slide the series has ever seen.
On the bright side, TWD is still the highest-rated series on cable, and its ratings numbers have improved consistently when delayed viewing is taken into account.
However, it's getting much more difficult to deny that the downward trend in the series' viewership is real and not just a fluke that will reverse itself. Cracks had already begun to appear last season, when the ratings for some episodes were off from the series' peak, and this season has offered little in the way of positive changes. The season premiere was highly-rated but controversial, and the series has been plagued by complaints of poor writing and awkward pacing.
TWD's seventh season has three more episodes to go until its mid-season hiatus. The series has already been renewed for an eighth season on AMC.
'Walking Dead' Ratings Continue to Slip
Did The Walking Dead jump the shark with its gory season-seven premiere? Evidence is mounting that at least some viewers are losing interest in the series as the current season wears on, but TWD remains the biggest series on cable TV.
Last week, we suggested that the ratings dip between TWD's first and second episodes of the season could be due to the fact that episode two was competing with a very highly-rated World Series game. But the ratings drop held up even when delayed viewing was taken into account, suggesting that about 20 percent of the audience from the premiere decided they weren't into episode two, baseball game or not.
The bad news continued with last Sunday's episode three, when there was no high-profile competition to blame. The episode was still the highest-rated program on cable, but its ratings fell by about 7 percent in the 18-49 age demographic compared to the week before. Compared to the season premiere, the episode was down by a third among younger viewers.
Even more concerning is that the total same-day viewership for episode three was the lowest of any episode in the series since the middle of season four, way back in 2013. Should the series' ratings slip much further, they'll flirt with the levels of the first three seasons, when TWD was merely a popular cable show rather than a must-watch phenonenon.
'Walking Dead' Aftermath: Ratings Tumble for Episode 2
There's evidence that all those viewers who said they were done with The Walking Dead after last week's episode weren't kidding. This week's second episode of TWD's season seven experienced a major drop in ratings from the previous episode, a trend that's unusual for the series.
The debut episode of the series' seventh season drew big ratings, and partially reversed the downward trajectory that the series experienced for part of its sixth season. This season's debut episode scored an 8.4 rating in the 18-49 age demographic and 17 million viewers overall; that was significantly higher than ratings for the season-six debut and nearly as high as the record-setting season-five debut.
This week's second episode, however, fell off by more than 25 percent to about 12.5 million viewers and a 6.1 rating in the 18-49 group. The typical decline for the series in recent years has been between 11 and 15 percent from each season's first episode to the second.
TWD had the misfortune to be up against a hot World Series game this week, but it's probable that the big drop in ratings can't be entirely blamed on the competition. Last week's gruesomely violent episode spurred some vocal backlash from fans who found the episode off-putting. The question is, are those fans gone for good, or are they just taking a little break? Ratings for next week's episode, with no baseball game to play the scapegoat, will help to answer that question.
Did 'Walking Dead' Push Fans Too Far?
The season-seven premiere of The Walking Dead finally hit the air Sunday night, resolving the cliffhanger that had fans agitated all summer. Those fans had waited months to find out the identity of Negan's victim, and when they at last had answers, at least some fans wished they didn't.
WARNING: We're going to try avoid major spoilers here, but if you don't want to know anything about Sunday's episode before you see it, don't read any further.
Sunday's episode resolved the cliffhanger at an excrutiatingly slow pace, jumping ahead and then flashing back to walk us through Negan's sadistic monologue all over again before finally revealing who was going to end up dead. When the reveal came, it was extremely graphic in its violence, and the drawn-out lead-up to the killing, the bloody murder itself, and its immediate aftermath took up the entire episode.
Critics overwhelmingly blasted the episode, citing the excessively manipulative attempts to lengthen the suspense and the episode's general failure to do much to advance the series' plot. The critical consensus seems to be that the episode was, by far, not worth the wait.
At least in their immediate reactions, many fans seemed to be more disturbed by the episode's violence than its weak writing. The on-camera violence outdid anything the infamously violent series had come up with so far, leading some to accuse the producers of using violence gratuitously (the term "tortue porn" came up more than once).
Ultimately, the talk of poor writing and over-the-line violence overshadowed discussion of what was supposed to be the dramatic impact of the episode: the death of a major character and the introduction of a major new villain.
So now TWD, having turned off both critics and fans, faces a season in which it must prove that it still has an entertaining story to tell.
'The Walking Dead' Season Seven is Finally Here
Whether you were excited or angry about the cliffhanger that ended the sixth season of The Walking Dead, you're probably equally eager to see this weekend's premiere episode of season seven. Love the writers' decision to leave fans dangling through the summer or hate it, you've got to admit that you really, really want to know who Negan is going to kill. Well, this Sunday, you'll finally find out.
The series' producers and cast have been extraordinarily tight-lipped about the identity of the Negan's victim, and there have been no leaks that have given away the identity of the character who will no longer be with us.
In a recent interview with Variety, executive producer - and director of the season-seven premiere episode - Greg Nicotero gave us a hint that really wasn't much of a hint.
"I would probably say that people will be sad," Nicotero said. "I recommend watching the episode with lots of Kleenex, and there will be a lot of questions and a lot of whys and 'What's going to happen next?' and 'How could you?'"
That would seem to suggest that the unfortunate character will be one of the series' central cast rather than one of the more peripheral characters at Negan's mercy. But which one will it be? Glenn? Maggie? Carl? Daryl?
A more important question for the future of the series is Nicotero's "What's going to happen next?" Cliffhangers grab headlines, and character deaths provide shock value, but after those things are wrapped up on Sunday, TWD has a whole season to get through. Will Negan, Ezekiel and a pet tiger be enough to keep fans interested into season eight?
Season seven of The Walking Dead premieres on October 23 on AMC.
'Walking Dead' Gets an Eighth Season
News for The Walking Dead got a little bit ahead of itself this week with the announcement that the series has been renewed for an eighth season before the premiere of its seventh. That means the zombie apocalypse will continue into 2018, no matter what happens in the meantime.
The eighth season of TWD will begin with the series' 100th episode, a landmark that easily makes the TWD the longest-running series on TWD. The early renewal shows that the network still has faith in TWD despite signs of peaking ratings, inconsistent critical reviews, and some fan dissatisfaction with plot development throughout the series' sixth season.
Season seven of TWD debuts on AMC on October 23, and that first episode of the season should reveal the resolution to the controversial cliffhanger that ended season six. In that season's finale, the new bad guy Negan - whose arrival fans had been waiting for all season - began to beat to death an unrevealed member of Rick's group. Negan's chosen victim will be revealed early on in season seven, leaving Rick and the surviving members of his group free to get on with the business of surviving the latest baddie who threatens their security.
Aside from Negan, season seven will also introduce another flashy character in Ezekiel, the leader of a new community called the Kingdom, and his pet tiger.
View More News

The Walking Dead Video Clips & Extras
Hearts Still Beating
Preview (00:36)
Go Getters
Preview (00:37)
Service
Preview (00:36)
The Cell
Preview (00:36)
The Walking Dead: 'Feast' 360 Experience
Clip (01:16)
(SPOILERS) The Walking Dead: 'The Well' Talked About Scene Ep. 702
Clip (04:21)
The Walking Dead: 'The Cell' Official Sneak Peek Ep. 703
Clip (01:19)