Watch The Walking Dead
Since its conception, The Walking Dead has been redefining the zombie genre. To some, it created the zombie genre. In the days, months, and years after the fall of civilization, a small, savvy, desperate and disparate group of nobodies struggles to keep themselves, along with their hope, alive in the American south. Their leader, police chief Rick Grimes, is a stoic and determined man, who's seen the best and the worst in people. He'll stop at nothing to secure the safety of his family and friends. As the troop begins to adapt to a world inhabited by the walking dead, they soon realize that the true challenge of survival lies in the evil that lurks in the power-hungry hearts of their fellow man.
Sunday 9:00 PM et/pt on AMC

7 Seasons,

95

Episodes - Currently Airing

October 31, 2010

10

/
Watch Full Episodes of The Walking Dead

Season 7 Episode 10
New Best Friends (58:59)
Season 7 Episode 9
Rock in the Road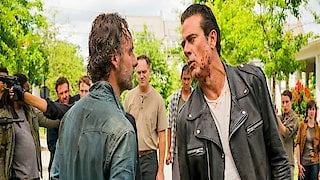 Season 7 Episode 8
Hearts Still Beating
Season 7 Episode 7
Sing Me a Song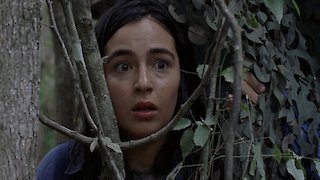 Season 7 Episode 5
Go Getters

Watch Episodes
News
Clips & Extras
The Walking Dead

Full Episode Guide
Season
7
10 full episodes, 14 clips available
Episode

10

-

New Best Friends

While looking for a missing Alexandrian, Rick and his team confront a mysterious collective, its dwellers unlike any they have come across.

Episode

9

-

Rock in the Road

Rick and the team are led to a new community where they meet its inhabitants and leader. A familiar face shows up.

Episode

8

-

Hearts Still Beating

Negan's unwelcome journey to Alexandria carries on as other members rummage for supplies; things quickly spiral out of control.

Episode

7

-

Sing Me a Song

A closer view of the Sanctuary and the world of the Saviors; members of Alexandria search for supplies.

Someone stumbles upon a new society different from anything known before.

Saddled with grief and surrounded by foes, members of the crew attempt to find safety at the Hilltop before it's too late.

The remaining members of the gang try to keep it together in Alexandria; they get a sobering visit.

A new crew of survivors seem to have everything in their impressive community; but, there is a price.

For many familiar faces, a new, well-established neighborhood appears too good to be true.

Episode

1

-

The Day Will Come When You Won't Be

The seventh season opens with Rick and the group kneeling powerless before Negan and his crew. Negan's actions will terrorize those who survive.
Season
6
16 full episodes, 57 clips available
Episode

16

-

Last Day on Earth

In the season finale, Rick and the group venture outside the walls of safety to save one of their own. On the road, they encounter Negan, who issues them a brutal warning.

When someone goes missing in Alexandria, the community goes on high alert, and search parties venture out.

Episode

14

-

Twice as Far

Two separate groups leave Alexandria for supplies, and while both worry over the future of the community, they will face immediate danger.

Episode

13

-

The Same Boat

With no hope of security in Alexandria, Rick and his group of survivors soon find a bigger world with new dangers and new opportunities.

Episode

12

-

Not Tomorrow Yet

Rick and the group realize the only way to maintain the peace of Alexandria is to fight a new enemy. However, this time, the group might be outmatched.

Episode

10

-

The Next World

While trying to escape Alexandria, Rick and his group meet trouble when sudden noise draws walkers towards them.

Episode

8

-

Start to Finish

Trouble returns to Alexandria after a short period of peace. Only now, the danger may be too much to handle.

At last, Alexandria is able to start putting itself back together; peace is accepted between the two companies.

Episode

6

-

Always Accountable

While trying to go back to Alexandria, Daryl, Abraham and Sasha encounter multiple obstacles and threats.

After a lot of stumbling blocks, the feel in Alexandria turns bleak for the sheltered inhabitants.

Episode

4

-

Here's Not Here

Morgan tells the captured wolf about his journey from King County to Alexandria, where he met a lone survivor with a code.

The group attempt to return home, but will they all make it?

Just as things start to get back to normal, the Alexandrians are faced with a new issue.

Episode

1

-

First Time Again

In the season 6 premiere, Rick and the others struggle to adjust in Alexandria. A new threat occurs.
Season
5
16 full episodes, 54 clips available
Season
4
16 full episodes, 68 clips available
Season
3
16 full episodes, 36 clips available
Season
2
13 full episodes, 2 clips available
Season
1
7 full episodes, 37 clips available
If You Like The Walking Dead, Then Try...
Most Popular The Walking Dead Episodes
Season 7 Episode 9

Rock in the Road

2/12/2017

Season 7 Episode 1

The Day Will Come When You Won't Be

10/23/2016

Season 7 Episode 10

New Best Friends

2/19/2017

Season 7 Episode 8

Hearts Still Beating

12/11/2016

Season 7 Episode 2

The Well

10/30/2016
The Walking Dead News
'Walking Dead' Posts Lowest Mid-Season Debut Ratings Since 2012
If the producers of The Walking Dead were hoping for a big turn-around in the series' ratings slide with this week's mid-season premiere, they have to be disappointed. The ninth episode of season 7 was the third-highest-rated episode of the season so far, but compared to past mid-season premieres, it did not draw a big audience.
The total viewership for the live airing of the episode was 11.99 million, making it the highest-rated episode of the season since the second one. That second episode, however, had already seen a huge ratings drop from the very high-profile season premiere, which attracted 17.03 million viewers.
In comparison to past seasons, though, the mid-season debut seems to be continuing the disappointing trend of the season overall. The episode drew the smallest mid-season audience since the season-two halfway point, when that season's ninth episode drew 6.9 million viewers.
If nothing else, it seems that TWD's ratings slide has stabilized and that the series is now consistently drawing ratings comparable to those of its third season. In that season, the series was on the cusp of becoming a huge hit, but its ratings were well below the stellar numbers that would come in the fourth, fifth and sixth seasons.
'Walking Dead': What to Expect from the Rest of the Season
The second half of The Walking Dead's seventh season begins this weekend, and fans have reason to approach the back half of the season with trepidation. The first half of the season was received with disappointment by critics and many fans alike, and there's some concern that season seven needs to finish strong in order to save face for the series.
So what can we expect from the home stretch?
The series' producers, writers, network and cast have promised that the second half of the season is going to be characterized by all-out war between Rick's group and Negan's army. The first half of the season was a grim slog in which Rick and the others were subdued and dominated by Negan. In the second half, we can expect the tables to turn.
We probably shouldn't expect them to turn swiftly or soon, though. One of the major complaints about the first half of the season was its slow pace and dull digressions. There's not much reason to expect that the producers have learned their lesson, however. If all we have to look forward to by the end of the season is Rick's eventual victory over Negan, we should be prepared for a many-episode-long lead-up to that event.
The first half of the season was also criticized for its dispiriting, graphic violence. We're getting conflicting reports about whether or not that's going to change. Executive producer Gale Anne Hurd promised that the violence would be toned down going forward, but she was contradicted by fellow EP Greg Nicotero. Showrunner Scott Gimple hedged between the two, explaining that graphic violence would be used only when it was appropriate.
Only time will tell if TWD can pull season seven out of its slump. A new episode of the series airs on AMC on Sunday, February 12.
'Walking Dead' Teases More Violence with Super Bowl Ad
The Walking Dead returns from its mid-season break next week, and the series is looking to turn around the ratings slide that plagued the season's first half. A teaser trailer for the series that aired during last weekend's Super Bowl, however, seemed to play up the controversial violence that got the slide started in the first place.
The 15-second teaser  featured a simple shot of a football lying on turf with the sound of crickets in the background. Suddenly, Negan's barbed-wire-wrapped baseball bat, Lucille, descends on the football and crushes it with a sickening splat, followed by the title "Football Season Is Over."
The teaser alludes to the violent season premiere episode, in which Negan kills two characters in a particularly horrific manner. The graphic (and arguably gratuitous) violence of the episode was denounced by many critics and fans alike, and many blamed the backlash against the episode for the series' unprecedented ratings drop through the first half of the season.
It's surprising then that the series producers would choose to refresh fans' memories about that episode in an attempt to generate excitement about the second-half premiere.
The second half of TWD's seventh season gets underway on Sunday, February 12, on AMC.
AMC to Air 'Walking Dead' Marathon on Super Bowl Sunday
The return of new episodes of The Walking Dead is still more than a week away, but fans can indulge in some zombie nostalgia this weekend. AMC will be continuing its tradition of airing a TWD marathon on Super Bowl Sunday.
The marathon gets started bright and early Sunday morning at 8am with the series' very first episode. TWD will then air back-to-back throughout the day, even during the big game itself. All of the first two seasons will air, with the last episode of season two finishing up in the wee hours of Monday morning.
Broadcast marathons have become a bit less compelling for viewers with the expansion of on-demand viewing opportunities. Netflix subscribers, after all, can watch any episode of TWD that they want, whenever they want to. Marathons still have something of a special-event air to them, though, and networks can use them as marketing opportunities.
TWD could use some good marketing right now. Its current season has seen a substantial ratings drop through its first half, and a re-introduction of the series' early episodes might remind viewers why they fell in love with the series in the first place. Or it might remind them that season 7 isn't nearly as good as season one.
The second-half premiere of TWD's seventh season airs on AMC on February 12.
A Kinder, Gentler 'Walking Dead'?
There are mixed messages coming from the leadership of The Walking Dead concerning the level of violence in upcoming episodes of the series. One executive producer says the violence is going to be toned down, but another says that's not true.
EP Gale Anne Hurd told an audience at the National Association of Television Program Executives conference last week that the producers made adjustments after the outrageously gory premiere episode of season seven preceded a big ratings drop for the series.
"We were able to look at the feedback on the level of violence," she said during a panel. "We did tone it down for episodes we were still filming for later on in the season."
EP Greg Nicotero, however, seemed to contradict Hurd in an interview with Entertainment Weekly.
"I don't think we would ever edit ourselves," he said. "I don't think we'll ever pull ourselves back."
Showrunner Scott Gimple tried to explain the apparent disparity.
"The violence in the premiere was for a specific narrative purpose," he said. "If we're ever going to see something that pronounced, there needs to be a specific narrative purpose for it."
After pulling in near-record ratings with its season-seven premiere, the series saw a steady ratings decline until it reached four-year lows near the end of the season's first half. The second half of season seven begins on February 12.
Why Delayed Viewing Can't Save 'Walking Dead'
Faithful fans of The Walking Dead are not as concerned as the rest of us about the series' declining ratings. They often cite the millions of viewers who watch each episode in the days after it originally airs as a reason to not be alarmed by the drop in same-day ratings. Those big delayed-viewing numbers might not be the series' salvation, however.
First, the good news. TWD is still the highest-rated scripted TV series among younger viewers. And it still sees a huge surge in viewership during the three-day period after each episode's air date, much more so than most other series.
The bad news is that as same-day ratings have fallen, the series' three-day ratings have fallen, too. TWD is still seeing three-day viewing growth of above 40 percent, but that's been fairly typical for the series. That means that the almost 7 million viewers the series lost between its season premiere and its mid-season finale are not just choosing to delay their viewing of each episode; they are choosing not to watch the episodes at all. They look, at this point, as if they might be gone for good.
Advertisers see another big problem with relying on delayed viewing. Most TWD viewers skip over ads when they watch an episode they've DVRed, and advertisers hate that. They hate it so much that they keep track of ad viewing more closely than they keep track of total viewership or demographic ratings for each episode. And according to the metric that advertisers care about, TWD isn't doing well at all.
There's no way to argue that TWD isn't still more popular than any other scripted series on TV. But there's also no way to argue that, by its own very high standards, the series' seventh season has been anything but immensely disappointing.
Did 'Walking Dead' Mid-Season Finale Lure Viewers Back?
Last week, it looked as if The Walking Dead might have stabilized its ratings collapse by airing, for the first time this season, an episode that didn't draw fewer viewers than the episode that came before it. Last week's episode, though, only ticked upward slightly in terms of viewership, and hope for a redemption of the series' season shifted to this week's mid-season finale.
The last episode before the winter hiatus has always been a reliable winner for TWD, and there was an expectation that many of those millions of viewers who'd tuned out so far in season seven would come back for the mid-year climax.
Unfortunately, that didn't happen. The mid-season finale did see a ratings gain compared to last week, but it was a miniscule one. The episode's 5.0 rating in the 18-49 age demographic was statistically a tie with last week's 4.95 rating, and this week's total viewership of 10.58 million is barely bigger than last week's 10.48 million.
The good news is that TWD avoiding having the lowest-rated mid-season finale since 2011, but again, not by much. The ratings for this season's mid-year finale are on a par with those of season three's.
At this point, it's beginning to look like TWD might have shed for good the millions of fans it gained during its peak years of 2014-2016. It's still one of the most-watched series on TV, but will it ever again be a must-watch cultural phenomenon? We'll have to keep our eyes on the second-half premiere in February for the next clue to the series' future.
'Walking Dead' Limps Toward Mid-Season Finale
For the first time this season, the most recent episode of The Walking Dead didn't experience a ratings decline from the previous episode. That's the good news. The bad news is that this week's ratings were virtually unchanged from last week's season-low marks, and the series doesn't have much momentum going into next week's mid-season finale.
This week's episode, titled "Sing Me a Song," nailed down a 4.95 rating in the 18-49 age demographic. That's up just one percent from last week's 4.9 rating. Total viewership was up a similar margin, with 10.48 million viewers compared to last week's 10.4 million. The ratings end a consistent week-to-week drop since the season premiere in October.
The episode's ratings remain at a level not seen since 2012, however. The series has established a pattern in previous seasons of rising ratings as it approaches its mid-season hiatus, but this season's downward ratings trend is making a big turn-around for next week's episode seem unlikely.
On the bright side, "Sing Me a Song" got a little more critical love than recent episodes have, with nearly three out of four critics finding some nice things to say about the episode.
After next week's episode, TWD will go dormant until February 2017.
Did 'Walking Dead' Bounce Back This Week?
Commentators have been watching ratings for The Walking Dead carefully this season, trying to determine if the series' unprecedented slide is an indication of serious instability. Optimists have held on to the hope that ratings would improve as the series nears its mid-season break. Those hopes were dealt a major blow with the release of ratings numbers for the latest episode.
Last Sunday's episode, the sixth episode of the seventh season, earned a 4.9 rating in the all-important 18-49 age demographic. That's a season low and a drop of four percent from the previous week's episode. Every episode of the season after the premiere episode has set a new season low point, and this week's rating represents a disastrous 42 percent drop from the season's first episode. No other season of the series has seen such a precipitous and consistent decline.
Perhaps even more concerning is the episode's total viewership, which also set a season-low mark with 10.4 million viewers. You have to look all the way back to the sixth episode of the third season in 2012 to find a less-watched episode. Season seven also now has the lowest average per-episode ratings of any season since the third.
Every season of TWD so far has seen an uptick in ratings at the end of the season's first half. Season seven now has two episodes left to reverse a trend that's becoming more dire with each passing week.
Death Watch: 'Walking Dead' Ratings Show No Sign of Rebound
For those who want to argue that the ratings slide for The Walking Dead this season is just an aberration that will turn around soon, this week has not brought good news. The fifth episode of the series' seventh season fell from the previous week, just as every episode of this season has done so far. And now the series' rating are at their lowest point since its third season.
This week's episode drew a 5.1 rating in the 18-49 age demographic, a drop of four percent from the previous week. More significant, though, is the episode's drop of almost 40 percent from the season's debut episode, marking the steepest ratings slide the series has ever seen.
On the bright side, TWD is still the highest-rated series on cable, and its ratings numbers have improved consistently when delayed viewing is taken into account.
However, it's getting much more difficult to deny that the downward trend in the series' viewership is real and not just a fluke that will reverse itself. Cracks had already begun to appear last season, when the ratings for some episodes were off from the series' peak, and this season has offered little in the way of positive changes. The season premiere was highly-rated but controversial, and the series has been plagued by complaints of poor writing and awkward pacing.
TWD's seventh season has three more episodes to go until its mid-season hiatus. The series has already been renewed for an eighth season on AMC.
View More News

The Walking Dead Video Clips & Extras
Go Getters
Preview (00:37)
Service
Preview (00:36)
The Cell
Preview (00:36)
The Walking Dead: 'Feast' 360 Experience
Clip (01:16)
The Walking Dead: 'The Cell' Official Sneak Peek Ep. 703
Clip (01:19)