Watch Waking the Dead
Waking the Dead is a British crime drama focusing on the work of a fictional Metropolitan Police force department called the cold case unit. Beginning with a pilot broadcast on the British network BBC One Waking the Dead has proved successful enough to complete nine seasons of more than 90 episodes; telling stand alone stories each plot line is told over a two hour format divided for broadcast into two 60 minute episodes. Created by Barbara Machin the show depicts a team of detectives and scientists investigating crimes that generally happened many years ago, sometimes dating back to the middle of the 20th century and have remained unsolved into the 21st century.
The main character of Waking the Dead is Detective Superintendent Peter Boyd, a middle aged police officer who uses the dissapearance and eventual murder of his runaway son as his reason to investigate cold cases. Boyd heads a close knit team that includes a criminal profiler, Dr. Grace Foley who provides a common sense approach to the cases investigated by the more outlandish Boyd. Also assisting in the investigations are a forensic scientist, initially Dr. Frankie Wharton and later the character of Dr. Eve Lockhart is introduced. The series differs from many other police procedural's as the character of the forensic scientist is seen as an integral part of the investigating team and consulted frequently for opinions on the theories presented for a murder or crime.
During the run of Waking the Dead the show has received a large amount of critical praise and has remained a ratings hit in the U.K. Amongst the awards won by Waking the Dead are an International Emmy for two episodes broadcast as part of the third season. The show remains successful because of the strong acting credentials of the cast, which includes veteran British performers Trevor Eve as Peter Boyd and Sue Johnston as Dr. Grace Foley; the character of Dr. Eve Lockhart, played by Tara Fitzgerald.
9 Seasons,

103

Episodes - Canceled/Ended

8.6/10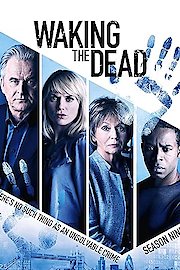 Waking the Dead

Full Episode Guide
Season 9
(10 full episodes)
Episode 10 - Waterloo, Part 2

There's growing concern amongst the team over Sarah's disappearance, and time is running out for Boyd as he fights his final battle for justice against a powerful adversary. Will he prevail?

Episode 9 - Waterloo, Part 1

Boyd is being moved out of the Cold Case Unit, but first he decides to take on the unsolved mystery of 16 homeless boys from Waterloo Bridge who disappeared in the 1980s. The Cold Case team's investigation unearths the grimmest find of their careers.

Episode 8 - Conviction, Part 2

Boyd needs Sarah's counter-terrorism expertise to help expose the state's involvement in Karl Barclay's death, but the case only amplifies Sarah's crippling self-doubt and guilt over the death of a colleague.

Episode 7 - Conviction, Part 1

When a missing student's DNA matches with that of a corpse found drowned years before, Boyd suspects a cover-up. Unmasking the fears and tensions of the post 7/7 terror attacks, the team discover the victim could have formed part of a terrorist cell.

Episode 6 - Solidarity, Part 2

Episode 5 - Solidarity, Part 1

Episode 2 - Harbinger, Part 2

Episode 1 - Harbinger, Part 1
Season 8
(7 full episodes)
Episode 8 - Endgame, Part 2

Episode 6 - Substitute, Part 2

Episode 5 - Substitute, Part 1

Episode 4 - End of the Night, Part 2

Episode 3 - End of the Night, Part 1

Episode 2 - Magdalene 26, Part 2

Episode 1 - Magdalene 26, Part 1
Season 7
(10 full episodes)
Season 6
(9 full episodes)
Season 5
(10 full episodes)
Season 4
(12 full episodes)
Season 3
(8 full episodes)
Season 2
(6 full episodes)
Season 1
(7 full episodes)