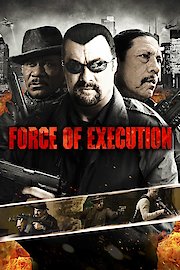 Watch Force of Execution
"Don't Break The Code."
R
2013
1 hr 40 min
The 2013 movie Force of Execution brought together an impressive cast of action movie veterans including Steven Seagal, Ving Rhames, and Danny Trejo. Directed by Keoni Waxman, the film tells the story of a powerful crime boss named Mr. Alexander, played by Rhames, who is facing a challenge to his authority from a younger upstart named Roman Hurst, played by Bren Foster. Seagal stars as John Alexander, Mr. Alexander's right-hand man and trusted enforcer. But when Roman Hurst begins to encroach on their territory, John finds himself torn between his loyalty to his boss and his sense of justice. Meanwhile, Danny Trejo plays a ruthless drug lord named Ice Man who has his own agenda and sees an opportunity to seize power in the chaos. As the conflict between Alexander and Hurst escalates, John is forced to take matters into his own hands, leading to a violent showdown that will determine the fate of the criminal underworld. Along the way, there are plenty of gun battles, martial arts fights, and car chases to keep audiences on the edge of their seats. One of the strengths of Force of Execution is the chemistry between the lead actors. Seagal, Rhames, and Trejo are all seasoned performers who bring a sense of gravitas and authenticity to their roles. Seagal, in particular, has always excelled at playing the tough guy with a heart of gold, and he brings that same quality to the character of John Alexander. Rhames, meanwhile, is perfectly cast as the imposing Mr. Alexander, exuding an air of menace without ever tipping into caricature. At its core, the movie is a classic tale of honor, loyalty, and betrayal. John Alexander is a man who believes in doing what is right, even if it means going against his boss. This puts him in conflict with not only Mr. Alexander but also Ice Man and his own past. As the plot unfolds, it becomes clear that John has a personal stake in the outcome of the conflict, adding an emotional weight to the proceedings. Of course, fans of action movies will be pleased to know that there is no shortage of adrenaline-fueled set pieces in Force of Execution. Whether it's a shootout in a nightclub or a high-speed chase through the streets of Los Angeles, the film delivers plenty of thrills and spills. And while Seagal is not quite as spry as he once was, he still manages to pull off some impressive fight choreography, demonstrating the skills that made him a martial arts superstar in the 90s. One of the more interesting aspects of the movie is the way it portrays the criminal underworld as a complex web of alliances and power struggles. There are no clear-cut heroes and villains here, only people trying to survive and advance in a world where violence and corruption are the norm. This gives the film a gritty, realistic feel that is often missing from more simplistic action movies. Overall, Force of Execution is a solid entry in the action genre, featuring a talented cast and some thrilling set pieces. While it may not break any new ground, it delivers exactly what fans of the genre are looking for: plenty of explosions, fisticuffs, and tough talk. With its pulse-pounding soundtrack and gritty visuals, it's a movie that will keep viewers engaged from beginning to end.