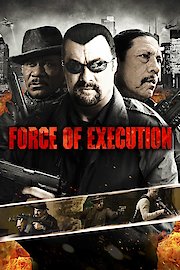 Watch Force of Execution
"Don't Break The Code."
R
2013
1 hr 40 min
This film follows the exploits of a crime boss whose empire might be on the verge of total collapse. With so many other gangs trying to get an angle on his turf Mr. Alexander (played by Steven Seagal) must decide if he wants to abandon the city to the wolves, or fight it out over the soul of his town. The film begins when Mr. Alexander sends one of his top assassins to handle a prison hit. Everything was going smoothly, but when the job turns out to be a both Alexander loses his right hand man. It's also the first punch thrown in a gang war that will shake the city to its foundations. Rival boss 'The Iceman' along with a South American cartel are moving in, bringing my drugs and violence as they try to carve of Alexander's empire. Though he has a moment of indecision, Alexander decides he isn't going to give up his town without a fight. The fight turns into a war as he seeks to defend his turf, his streets, and the rackets it took him an entire lifetime to entrench in the makeup of this particular city.