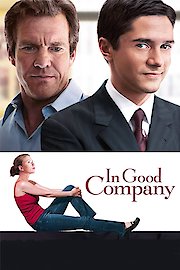 Watch In Good Company
"He's rich, young and handsome. He's in love with you and he's your dad's boss."
PG-13
2004
1 hr 50 min
66
Dan Foreman is headed for a meltdown. He is 51 years old and has just learned that his company is headed for a shakedown. Everything is getting restructured. Dan has just learned that he is getting replaced and demoted, all at the same time. The person who is taking over is a man named Carter. Carter is 26 years old. Carter is fresh out of business school and considered by many to be a genius in all areas. Both Dan and Carter have two different ways of handling business. Dan believes in building trust with his clients and using a heartfelt handshake. While Carter believes in doing everything under the corporate umbrella. Both Dan and Carter are going through problems at home. Dan already has two daughters. he becomes shocked when his wife confirms to him she is having another one. Dan's and his wife have been together for 7 months. Just as he gets this promotion, she ups and leaves him. Dan and Carter decide to give one another a shot and try working together. But everything is thrown into chaos when Carter begins to date someone new. That someone new happens to be one of Dan's daughters, Alex.