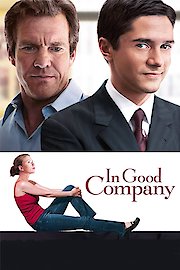 Watch In Good Company
"He's rich, young and handsome. He's in love with you and he's your dad's boss."
PG-13
2004
1 hr 50 min
66
In Good Company is a 2004 comedy-drama film directed by Paul Weitz, starring Dennis Quaid, Topher Grace, and Scarlett Johansson. The movie follows the story of Dan Foreman (Dennis Quaid), a middle-aged advertising executive who is unexpectedly assigned a new boss, Carter Duryea (Topher Grace), who is half his age. Dan has always been a devoted husband and father, but suddenly his life is turned upside-down when he finds himself demoted and replaced by a young 'hotshot' executive.
Carter, meanwhile, is a charming and ambitious young man who thinks he knows everything about the advertising industry, but finds himself struggling to cope with the pressures of his new role. He's also dealing with a failed marriage and a need for purpose, and he sees Dan as a mentor of sorts – someone who can help him navigate the complex world of advertising while also providing him with some much-needed life advice.
As Dan and Carter work together, they find themselves drawn to each other in unexpected ways, especially as Dan's marriage begins to crumble and Carter starts to question his own values and priorities. Along the way, they encounter a number of memorable characters, including Johansson's character, Alex, a young woman who becomes romantically involved with Carter, but also forms a close bond with Dan.
The film is a nuanced exploration of themes such as generational conflict, corporate culture, family dynamics, and the complexities of modern relationships. It's also a character-driven story, with Quaid and Grace turning in powerful performances as two men struggling to find their place in the world. Quaid brings a natural warmth and humanity to his role as Dan, a man who is trying to balance his career, his marriage, and his relationship with his children, while Grace is equally impressive as Carter, a man who is forced to confront his own insecurities and limitations in order to grow as a person.
Johansson, meanwhile, provides a refreshing contrast to the two male leads, bringing her trademark blend of intelligence, humor, and vulnerability to the role of Alex. Her character serves as a bridge between the two generations, offering a perspective that is both grounded and optimistic, as well as providing a source of tension as she becomes involved with both Dan and Carter.
The movie's themes are further explored through its visual style and cinematography, which make excellent use of a variety of settings and locations to capture the different worlds inhabited by its characters. From the bustling office of the advertising company to the cozy warmth of Dan's home, the film presents a vivid and immersive portrait of modern life that feels both authentic and relevant.
Overall, In Good Company is a well-crafted and engaging film that provides a compelling look at the challenges facing people of all ages and backgrounds in modern society. Its blend of comedy and drama, coupled with its terrific performances and thoughtful writing, make it a must-see for fans of character-driven stories, while its relevance to contemporary issues such as generational conflict and corporate politics ensures that it will stand the test of time.
In Good Company is a 2004 comedy with a runtime of 1 hour and 50 minutes. It has received mostly positive reviews from critics and viewers, who have given it an IMDb score of 6.5 and a MetaScore of 66.