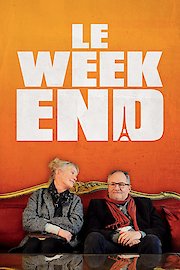 Watch Le Week-End
R
2014
1 hr 33 min
73
Le Week-End is a 2013 romantic comedy-drama film directed by Roger Michell and written by Hanif Kureishi. The film stars Lindsay Duncan and Jim Broadbent as a long-married couple who revisit Paris to try to rekindle their relationship. They encounter Jeff Goldblum as a former student of the husband's, who is now a successful writer living in Paris.
The film follows a middle-aged British couple, Meg and Nick, who are celebrating their 30th wedding anniversary. They leave their home in Birmingham and head to Paris for a weekend. But this is not just any typical romantic getaway. With their marriage already on the rocks, they are hoping that this holiday will help them put things into perspective.
On the train journey, they reminisce about their past, but also argue about their struggles with money and Nick's failed career. Things don't look bright as they enter their small, shabby hotel room.
Their stay in Paris goes from bad to worse as they start to realize that they are living in a lie. They visit the famous tourist spots, but nothing feels the same. They begin to question their entire lives, and the weekend starts to become a test of their relationship. They argue and bicker, with Meg expressing her disappointment in life and Nick feeling that he has failed his wife.
However, things begin to change when they meet Nick's old university friend and former student, Morgan (Jeff Goldblum). A conversation between them turns into an invitation to a dinner party at Morgan's apartment, where they encounter a group of successful writers and artists. The dinner party becomes the turning point for Nick and Meg.
As the weekend progresses, Nick and Meg try to find happiness and closure before they return to Birmingham. The film provides a realistic look at aging and the complexities of a long-term relationship, showing the ups and downs of marriage in an honest and raw way.
Lindsay Duncan and Jim Broadbent deliver outstanding performances, capturing the essence of a long-married couple struggling to reconnect. Jeff Goldblum's character adds a touch of charm and humor to the film, providing a contrast to the bickering and disconnection between Nick and Meg.
The film also features stunning shots of Paris, showcasing the beauty and romance of the city. The iconic landmarks, jazz music, and French culture add to the film's overall setting and atmosphere.
Le Week-End is a heartwarming and thought-provoking film that explores the challenges of long-term relationships and finding happiness in life. With natural performances, beautiful scenery, and a poignant script, Le Week-End is an excellent addition to the romantic comedy-drama genre. Anyone who has experienced the ups and downs of a long-term relationship will relate to the characters in this film.
Le Week-End is a 2014 comedy with a runtime of 1 hour and 33 minutes. It has received mostly positive reviews from critics and viewers, who have given it an IMDb score of 6.4 and a MetaScore of 73.