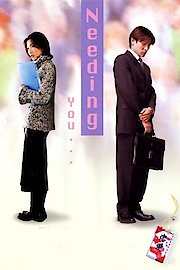 Watch Needing You...
2000
1 hr 41 min
Needing You... is a romantic comedy film from Hong Kong released in 2000. Directed by Johnnie To and Wai Ka-fai, it stars Andy Lau, Sammi Cheng, and Fiona Leung in the lead roles. The story revolves around two people, Kinki and Andy, who work in the same company. Kinki is a fashion sales assistant who takes her work very seriously and is highly dedicated to her job. Andy, on the other hand, is a cocky manager who believes in making money and enjoys a lavish lifestyle.
Despite their stark personality differences, the two start falling for each other when they are thrown together on a project. However, things get complicated when Kinki's ex-boyfriend enters the picture and tries to woo her back. Andy, being the jealous type, becomes possessive of Kinki and tries to win her heart.
The film is a lighthearted take on office romance and the ups and downs of a relationship. It explores themes of ambition, trust, and communication in a light and humorous manner. The chemistry between Andy Lau and Sammi Cheng is palpable, and their performances make the film a delight to watch.
One of the biggest strengths of the movie is the direction by Johnnie To and Wai Ka-fai. They manage to balance the romantic and comedic elements of the film perfectly, keeping the pacing tight and engaging. The screenplay by Wai Ka-fai is witty and charming, with several hilarious moments that will leave the audience in splits.
As far as the performances are concerned, Andy Lau and Sammi Cheng steal the show with their effortless chemistry and comic timing. Lau portrays the role of the suave, cocky manager with panache, while Cheng shines as the hardworking and sincere sales assistant. Fiona Leung provides good support as Kinki's best friend and colleague.
Another aspect that elevates the film is the music by Peter Kam. The songs are catchy and memorable, complementing the visuals perfectly. The cinematography by Cheng Siu-Keung is also noteworthy, especially for its use of vibrant colors and dynamic camera movements.
Needing You... was a commercial and critical success upon its release, grossing over HK$35 million in Hong Kong alone. It was also praised for its portrayal of the modern office culture in Hong Kong and its realism in depicting contemporary relationships.
Overall, Needing You... is a delightful romantic comedy that will leave the audience with a smile on their faces. It manages to balance humor and romance perfectly, making it a must-watch for fans of the genre. The performances of Andy Lau and Sammi Cheng and the direction by Johnnie To and Wai Ka-fai make it a timeless classic of Hong Kong cinema.