Watch Philomena
"These two unlikely companions are on a journey to find her long lost son."
Martin is a journalist and former government aide who takes on a human interest story of Philomena and her son, a baby put up for adoption. Philomena states that "Anthony" was born in a convent. There, despite signing away parental claims, she cared for him, until he was adopted. Philomena's best friend also bore a child, Mary, who became best friends with Anthony. When a couple visited to adopt Mary, they adopt both children instead.
Martin and Philomena start searching at the convent, where the nuns claim that any records burnt up five years ago. Frustrated, Martin heads to a pub where he overhears that the convent may have sold children off. Martin decides to change focus, and research any American ties to Anthony.
Martin relays his findings to Philomena, who wants to meet those who knew Anthony. Martin realizes that he'd actually met Anthony while working at the BBC, but tracks down Mary. Mary shares some of Anthony's history, including his most dedicated relationship.
|
2013
|
1 hr 35 min
|

/

10
Cast

Studio

Director

Stephen Frears

Language

English
Philomena News
Oscars 2013: Nominations vs. Box Office
January 17, 2014 @ 8:12 am PST
|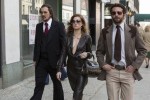 Critics and ticket-buyers rarely agree about which movies are the best, and this week's Oscar nominations showcased the disconnect between box-office success and artistic accolades. The Academy loves "Her," but before it was nominated for Best Picture, audiences barely noticed it.
Read More

Golden Globe Nominations: Yes to '12 Years a Slave,' No to 'The Butler'
December 12, 2013 @ 9:54 am PST
|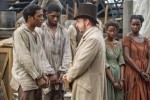 The Golden Globe Awards unveiled their nominations this week, and as always the ranks of nominees were filled with A-list stars. There was a big name or two missing from the list, however, and some observers were surprised that the traditionally celeb-friendly Golden Globes missed the chance to nominate the likes of Oprah Winfrey and Harrison Ford.
Read More


Watch Philomena Trailer

Official Trailer (Judi Dench, Steve Coogan)
|
2:19
Watch Philomena Online - Watch online anytime anywhere: Stream, Buy, Rent
Philomena is currently available to watch and stream, buy, rent on demand at Amazon, Vudu, Google Play, FandangoNow, iTunes, YouTube VOD online.