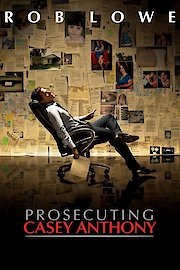 Watch Prosecuting Casey Anthony
"The verdict that no one saw coming."
TV-PG
2013
1 hr 30 min
Prosecuting Casey Anthony, a 2013 Lifetime movie, is based upon Jeff Ashton's, the prosecutor of the case, book on his experience working to prosecute, "Imperfect Justice: Prosecuting Casey Anthony". This movie is based on the view of Jeff Ashton as he attempts to prosecute Casey Anthony for the murder of her 2 year old daughter, Caylee Anthony, who was reported missing by her grandparents and later found dead.
This movie takes the audience through the steps leading up to the trial and acquittal of Casey Anthony. It offers a behind the scenes take at the preparation of the trial as Ashton, portrayed by Rob Lowe, and shows how he is sure that they will be able to get the jury to reach the guilty verdict. It also gives a look at the investigation into the disappearance and death of Caylee Anthony and follows how the prosecutors were able to build their defense.
This Lifetime movie stays true to the facts of the trial and does not fabricate evidence from the case. It also includes the struggles of the defense attorney, Jose Baez, as he tries to solidify a victory through the defenses lack of DNA. It also displays what both attorneys have to do with the publicity and public opinion surrounding the case. It works to incorporate the public opinion of Casey Anthony as well and it examines her behavior and her version of what happened to her daughter.
The view that the movie takes allows the audience to see what the prosecution used in order to try and obtain the death penalty. It also demonstrates Jeff Ashton's strong belief in his case, as he goes into trial and takes the audience through a dramatic ending of the acquittal of verdict of Casey Anthony's daughter, Caylee.
Prosecuting Casey Anthony is a 2013 drama with a runtime of 1 hour and 30 minutes. It has received moderate reviews from critics and viewers, who have given it an IMDb score of 5.8.