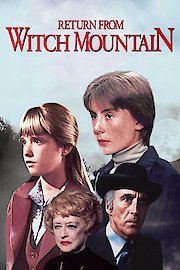 Watch Return from Witch Mountain
"Sinister forces from this world against two young space travellers from another."
G
1978
1 hr 34 min
51
Return from Witch Mountain is an action-packed fantasy film that was directed by John Hough and released in 1978. The movie is a sequel to the 1975 film, Escape to Witch Mountain and is set some time after the original story. The movie was produced by Walt Disney Productions and received positive reviews from critics and audiences alike. The story of Return from Witch Mountain follows two siblings, Tony and Tia (played by Ike Eisenmann and Kim Richards respectively), who possess telekinetic and psychic powers. The siblings are extraterrestrial beings who both have strong psychic abilities and the power to control objects with their minds. They are also able to communicate telepathically with each other. The movie begins with Tony and Tia living in Los Angeles where they have been adopted by a kind couple named Eddie (Darrin McGavin) and Carla (Stella Stevens). The siblings are starting to feel like they should return to their original planet and are trying to figure out a way to make this happen. Meanwhile, they attend a scientific conference where Tia is asked to perform a psychic demonstration. During her demonstration, Tia has a premonition of a boy who she thinks is in danger, and she is compelled to go and help him. The boy, whose name is Sickle (Brad Savage), is later revealed to be a member of a criminal organization led by a man named Letha (Christopher Lee). Letha is interested in the children's powers and believes that he can profit from them. Tony and Tia find themselves kidnapped by the villains and forced to use their powers for evil. Sickle is also kidnapped and held hostage to force Tony and Tia to cooperate. Fortunately, some old friends come to rescue the siblings, including a man named Jason O'Day (played by Eddie Albert) who is an old friend of their deceased father. Bette Davis plays Letha's wealthy and eccentric client, Miss Clarion. She is interested in the children's powers and has an ulterior motive for getting involved. As the story progresses, the children's powers are put to the test as they are faced with numerous challenges and obstacles. They use their psychic abilities to escape from their captors, and they work together to find a way to return to their original planet. Along the way, they are aided by various people, including a young girl named Sari (played by Christian Juttner). The movie is full of action, adventure, and suspense. The special effects were impressive, especially for the time period, and the performances were well executed. Bette Davis, in particular, gave a standout performance as the eccentric Miss Clarion. The children, Ike Eisenmann and Kim Richards, also gave solid performances and portrayed their characters with conviction. Overall, Return from Witch Mountain is a fun and exciting movie that will appeal to those who enjoy action and adventure films. The movie combines fantasy elements with science fiction, making it an enjoyable watch for audiences of all ages.