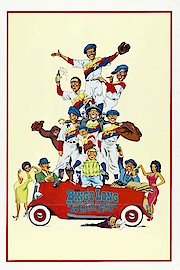 Watch The Bingo Long Traveling All-Stars & Motor Kings
"They put the ball in baseball."
PG
1976
1 hr 50 min
Set in the 1930s, The Bingo Long Traveling All-Stars & Motor Kings is a sports film that follows a team of talented but marginalized black baseball players who break away from the oppressive and discriminatory Negro Leagues to form their own independent team. The movie stars a star-studded cast led by Billy Dee Williams as Bingo Long, James Earl Jones as Leon Carter, and Richard Pryor as Charlie Snow. The film begins with Bingo Long, Leon Carter, and Charlie Snow playing for the Indianapolis Eagles in the Negro Leagues. They soon realize that the team owners and managers are making a fortune off their hard work and talent while paying them peanuts. Desperate for a change and better pay, they combine their resources and form their own team, the "Bingo Long Traveling All-Stars & Motor Kings." The new team's players are as talented as they come, and with Bingo's leadership, they embark on a cross-country tour, playing games against various teams ranging from small-town teams to bigger, more established teams. The film explores the challenges they face on the road, from hostile crowds to opposing teams who refuse to lose to a team of "negroes." Along the way, Bingo and his team recruit new players, including a nifty shortstop (played by Edward Asner) and a talented pitcher (played by Stan Shaw), to bolster their chances of winning games and drawing larger crowds. As the team travels from town to town, they encounter many challenges beyond a baseball game, including racism and discrimination, betrayal and friendship, and above all, the pursuit of happiness and dignity. They also face challenges from their own teammates as they grapple with differences in personality, skill level, and attitudes towards playing ball. The movie's predominant theme is the struggle for African Americans' recognition and respect in America in the early 20th century. The Bingo Long Traveling All-Stars & Motor Kings shows how even the most talented and skilled black athletes in America in the 1930s were restricted from playing alongside white players and were often relegated to second-class status in the Negro Leagues. The movie also explores the players' agency in taking steps towards gaining independence and earning what they deserve for their hard work. The players' teamwork, determination, and sacrifice reveal their commitment to their art and their desire to forge a better future for themselves and their family. The casting of Billy Dee Williams, James Earl Jones, and Richard Pryor in the lead roles adds a layer of authenticity and depth to the characterizations. They bring their charm, humor and depth of character to the roles, making the audience root for them and feel every victory and setback they experience on their journey. Overall, The Bingo Long Traveling All-Stars & Motor Kings is a fun, inspiring, and well-made sports film that deals with the big issues of race, class, and power while entertaining the audiences with a compelling story and great performances from its lead actors. The movie presents an excellent opportunity for fans of sports films and civil rights history buffs.