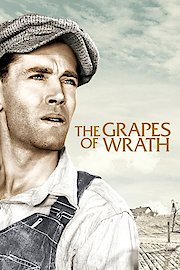 Watch The Grapes of Wrath
"The Joads step right out of the pages of the novel that has shocked millions!"
NR
1940
2 hr 10 min
96
The Grapes of Wrath, adapted from the Pulitzer Prize-winning novel by John Steinbeck, is a poignant portrayal of the struggles faced by the Joad family during the Great Depression. Directed by John Ford, the film stars Henry Fonda as Tom Joad, a recently released convict who returns home to find that his family has been evicted from their Oklahoma farm due to the Dust Bowl. The Joads, along with thousands of other families, set out for California in search of work and a better life. As the Joads embark on their journey, they encounter various obstacles, including the harsh conditions of the road, a lack of food and water, and prejudice from those who see them as a threat to their own livelihoods. Despite these challenges, the Joads remain determined to survive and find work in California. Upon their arrival, they discover that the reality of California is far from the land of opportunity they had envisioned. The jobs are scarce and the wages are meager, leaving the Joads and other migrant workers living in squalor and facing exploitation from their employers. The family is forced to band together and rely on their own ingenuity to survive in a world that seems to be stacked against them. Henry Fonda delivers a powerful performance as Tom Joad, a man who finds himself transformed by his experiences on the road. Jane Darwell shines as Ma Joad, a stoic and resilient matriarch who holds the family together through times of hardship. John Carradine also gives a standout performance as Jim Casy, a former minister who becomes a voice for the oppressed migrant workers. The Grapes of Wrath is a masterpiece of American cinema, capturing the spirit and struggles of a time and a people in a way that is both timeless and universal. With its powerful storytelling and unforgettable characters, this film is a must-see for anyone interested in the human experience during one of the darkest periods of American history.