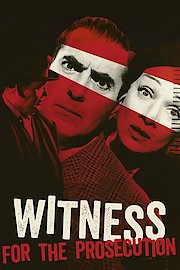 Watch Witness for the Prosecution
"The most electrifying entertainment of our time!"
NR
1958
1 hr 56 min
Based on an Agatha Christie best-seller, this romp through the British legal system is sure to be eye-opening. Mr. Vole and Christine (Marlene Dietrich), must battle head-to-head in a murder case involving an unemployed American vet and his elderly landlady. All evidence points to Mr. Vole as the prime suspect, but certain investigators are not convinced that the case is clear-cut. Murder is the focus, but the truth is the only thing that exonerates Mr. Vole from a dire sentence.