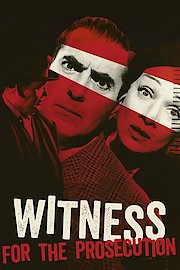 Watch Witness for the Prosecution
"The most electrifying entertainment of our time!"
NR
1958
1 hr 56 min
76
Witness for the Prosecution is a classic courtroom drama from 1957, directed by legendary filmmaker Billy Wilder. The film is based on a short story by Agatha Christie and stars Tyrone Power, Marlene Dietrich, and Charles Laughton. Set in post-World War II London, the film tells the story of Leonard Vole (Tyrone Power), a young man who is accused of murdering a wealthy widow named Emily French. Vole hires aging lawyer Sir Wilfrid Robarts (Charles Laughton) to defend him against the charges. At first, Sir Wilfrid is reluctant to take the case, as he has recently suffered a heart attack and has been warned by his doctors to avoid anything that could cause him stress. However, he is intrigued by the case and decides to take it on. As Sir Wilfrid prepares for the trial, he meets Vole's German wife Christine (Marlene Dietrich), who is seen as a key witness in the case. Sir Wilfrid becomes increasingly convinced that Christine is not being entirely truthful with him, and that there may be more to the case than meets the eye. As the trial begins, Sir Wilfrid is pitted against the ruthless prosecutor Mr. Myers (played with relish by Leo G. Carroll), who is determined to prove Vole's guilt. In the courtroom scenes that follow, the film builds to a dramatic and unexpected conclusion. One of the film's strengths is the performances of its three lead actors. Charles Laughton is particularly memorable as Sir Wilfrid, delivering a performance full of wit and charm. Marlene Dietrich also shines as the enigmatic Christine, conveying both vulnerability and strength in her role. Tyrone Power, although not given as much to do as his co-stars, is nonetheless effective in his portrayal of the accused Vole. The film is also notable for its twists and turns, which keep the audience guessing until the very end. Agatha Christie's original story is known for its surprising ending, and the film does not disappoint in this regard. In addition to its fine performances and twisty plot, the film is also notable for its production design and cinematography. The courtroom scenes are especially impressive, with Wilder using clever camera angles and lighting to add suspense and tension to the proceedings. Overall, Witness for the Prosecution is a classic film that still holds up today. Its themes of deception and betrayal, along with its memorable characters and surprising twists, make it a must-see for anyone who loves a good courtroom drama.