30 Days
30 Days is a documentary based television program hosted by Morgan Spurlock. In each episode, either Morgan or a test subject commits to participating in a lifestyle or event for 30 days in order to gain perspective on what it is like to live in that manner. Typically, the lifestyle or event is contrary to the behaviors of the test subject, creating difficulty circumstances and problems. While evaluating the problem, Morgan provides commentary based on research and statistics in order to provide the viewer with appropriate context about how an individual situation influences the world.
The participant in each 30-day experiment also provides their assessment of the circumstances, mentioning any difficulties, positive and negative experiences, and differences from the way they typically live or would handle certain situations.
At the end of the thirty days, the participant provides a final interview discussion how their views have possibly changed and why.
3 Seasons,

18

Episodes

June 15, 2005

/

10

Cast:

Morgan Spurlock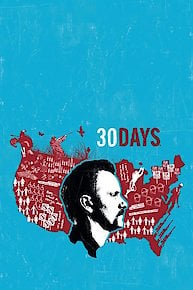 30 Days Full Episode Guide
Episode

6

-

Life on an Indian Reservation

Morgan Spurlock spends 30 days on an Navajo reservation in New Mexico where he explores the Native American culture. Morgan is hosted by a school superintendent and her husband, a college physical education instructor and rodeo rider. They are well connected to their native culture while enjoying the well to do lifestyle. While there Spurlock also spends some time in a hogan, which is a bit less accommodating dwelling, and works in a tire store.

A dance instructor from Massachusetts who is in favor of gun control will spend 30 days in Ohio at the home of a gun enthusiast. Among the stops will be a job in a gun shop and a visit to a gun show. She in turn will introduce people who have lost a loved one to a bullet.

Episode

4

-

Same Sex Parenting

An adoptee, now a mother of two adopted sons herself, is opposed to same sex adoptions. She will spend the next 30 days living with a gay couple in Michigan who have adopted four boys of their own. Among their stops includes attending church with the family, travelling to the state capital in Lansing for a rally for gay and lesbian couples promotting adoptions, and a meeting with a group of lesbian mothers. She will also have a discussion with former foster children about growing up without parents or a permanant home.

Episode

3

-

Animal Rights

A North Carolina hunter joins a PETA campaign coordinator/vegan for one month. Among the places they attend are an animal rights protest, work at a center which rescues farm animals and meet with animal rights organizers.

Episode

2

-

30 Days in a Wheelchair

Ray Crockett, a former NFL player who played with a teammate who ended up paralyzed, will spend 30 days in a wheelchair. Crockett's home and car are retrofitted, as he continues coaching his son's football team. He will also play a game of wheelchair rugby against other spinal cord injured players. Host Morgan Spurlock challenges Marlon Shirley, a Paralympian to a foot race.

Episode

1

-

Working in a Coal Mine

West Virginia native, Morgan Spurlock will spend 30 days in a coal mine, and will get a first hand experience of just how dirty and dangerous the job can be. He will also go with his boss/roommate Dale Lusk, to a clinic to check for black lung disease.
Series creator Morgan Spurlock will be the final subject for this season's final installment. He is incarcerated at a couty joain in Richmond, Virginia where he is treated no differently then any of the other inmates. He will work the same 15 hour shifts and be allowed the same one hour per week of exercise as the rest of the convicts incarcerated at Henrico County Jail, including spending 72 hours in solitary confinement.

Episode

5

-

Pro-Choice/Pro-Life

A woman who had an abortion 6 years ago and is pro-choice resides in a pro-life group home for pregnant women.

A man who is over-worked and over-stressed attempts to find inner peace through unconventional means.

Episode

3

-

Atheist/Christian

A woman who is an atheist lives with a fundamentalist Christian family.

A man who lost his job to outsourcing travels to India, where he witnesses how the outsourcing of U.S. jobs has affected that county's culture.

A man who has staunch anti-immigration views and is a member of the Minutemen lives with a family of illegal immigrants.
If You Like 30 Days, Then Try...