A Dinner of Herbs
When Palmer, a meat-loving construction worker, comes home to find that his dinner does not include any beef, pork, or chicken, he asks his wife about what has happened. She responds by informing him that she has decided that the whole family will now be vegetarians due to the harmful effects of eating meat on the environment and the human body.
Enraged, Palmer sets out on foot to go hunting for fresh meat. However, when he doesn't come back for breakfast the next morning, his wife begins to worry. When she finds him, he is in a condition that will change their relationship forever.
1 Season,

6

Episodes

November 24, 2000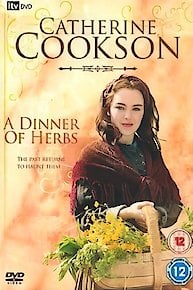 Watch Full Episodes of A Dinner of Herbs

A Dinner of Herbs Full Episode Guide
Perhaps against her better judgement, Kate Makepeace decides to take a chance and introduce her family to Bentley.

As young Kate Makepeace prepares for her marriage, Hal Royston brings her an early wedding gift that could change everything.

Roddy continues his affair, and Hal seems to put everything behind him to become a farmer. Meanwhile, Mary Ellen moves into Kate's cottage.

As Roddy moves in with patron Alfred Cottle and attends art college in Newcastle, Hal becomes obsessed with avenging his father's death.

Roddy Greenback falls hard for a mystery girl, but his amorous feelings could lead him straight into dangerous territory.

Young Roddy is sent to live with the village herbalist after his father, sailor Peter Greenback, is murdered within hours of returning home.