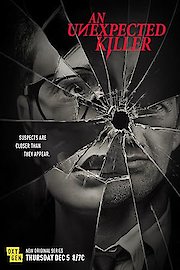 Watch An Unexpected Killer
TV-14
2019
3 Seasons
An Unexpected Killer is a true crime series that aired on Oxygen in 2019. Over the course of six episodes, the show examines different cases of murder, in which the killer remained hidden until the very end. Each episode tells the story of a different crime, exploring the investigation and the eventual capture of the culprit.
The show is hosted by Glenn Edward Gyorffy, a former homicide detective with over 20 years of experience in law enforcement. Throughout the series, Gyorffy provides expert analysis of the case, explaining the different investigative techniques used and providing insight into how the killer was eventually caught. He is joined by Duncan McLellan, a crime scene investigator with over 30 years of experience, and Karen Scora, a forensic psychologist who provides analysis of the killer's behavior.
An Unexpected Killer takes an in-depth look at each crime, from the initial discovery of the body to the eventual trial and conviction of the killer. Each episode features interviews with law enforcement officials, family members of the victim, and other key witnesses, providing a detailed account of the events leading up to the murder and the investigation that followed.
One of the strengths of the show is its focus on the unexpected nature of the crimes. In each case, the killer was able to blend in with their community, appearing to be an ordinary person with no history of violent behavior. This makes the investigation particularly challenging, as law enforcement officials must work hard to uncover clues and piece together a case against the killer.
Another aspect of the show that is particularly interesting is its focus on the psychological factors that may have contributed to the killer's behavior. Karen Scora provides insight into the motivations behind the crime, exploring factors such as mental illness, personality disorders, and past traumas. This adds an important dimension to the show, giving viewers a greater understanding of the complex factors that can drive someone to commit murder.
In addition to its expert analysis and in-depth investigation of each case, An Unexpected Killer is also notable for its high production values. The show makes use of dramatic reenactments and atmospheric cinematography to bring each case to life. It also features a haunting musical score that sets the tone for each episode, adding to the overall suspense and tension.
Overall, An Unexpected Killer is a gripping true crime series that is sure to appeal to fans of the genre. Its focus on the unexpected nature of each crime, as well as the psychological factors that may have contributed to the killer's behavior, sets it apart from other shows in the genre. With expert analysis from seasoned law enforcement officials and an emphasis on high production values, this is a show that is well worth watching.
An Unexpected Killer is a series that is currently running and has 3 seasons (48 episodes). The series first aired on December 5, 2019.