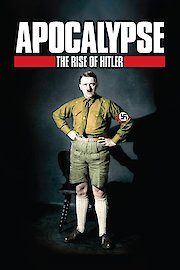 Watch Apocalypse: HItler
2011
1 Season
Apocalypse: Hitler is a compelling and insightful documentary series produced by France 2 and first aired in 2011. It examines the rise and fall of the Nazi dictator Adolf Hitler by delving deep into the historical archives to reveal new insights into his life, his ideology, and the events that led to the Second World War.
The series is presented by the celebrated French actor, director, and screenwriter Mathieu Kassovitz, who brings a gravitas and sense of humanity to the narration. His voiceover is backed up by a wealth of historical footage, including rare and previously unseen material, which vividly brings to life the events of the time.
Over six episodes, Apocalypse: Hitler takes viewers through the key stages of Hitler's life, beginning with his humble beginnings in Austria and ending with his final days in the bunker beneath Berlin. Along the way, we see his evolution from a failed artist and World War One veteran to a charismatic, but terrifying, leader who was capable of inspiring millions to follow him to their deaths.
One of the strengths of the series is the way it uses a range of sources and perspectives to tell the story of Hitler's life. Rather than focusing solely on his own words and actions, the series also explores the experiences of ordinary people who lived through the era, including both allies and enemies of the Nazis. We hear from survivors of the Holocaust and from German soldiers who were sent to the front lines, as well as from leaders in Britain, France, and the Soviet Union who were trying to prevent Hitler's rise to power.
In addition to these personal stories, the series also delves into the ideological underpinnings of Nazism, examining the tenets of racial purity and supremacy that drove Hitler's ambitions. We see how his hatred of Jews, homosexuals, gypsies, and other minorities led him to commit some of the worst atrocities in human history. However, the series also takes care to show that Hitler did not act alone, and that he was supported by millions of other Germans who shared his beliefs.
Throughout Apocalypse: Hitler, the focus remains squarely on the personal story of the man himself. From his failed attempts to become an artist, to his rise to power as the head of the Nazi party, to his catastrophic decision to invade Russia, the series skillfully weaves together a complex and nuanced portrait of one of history's most infamous figures.
The series is backed up by an impressive team of researchers and historians, who bring a depth and richness of detail to the story. From examining Hitler's personal relationships to analyzing his speeches and writings, the series leaves no stone unturned in its quest to understand how and why Hitler was able to become the leader of a nation.
Overall, Apocalypse: Hitler is a triumph of historical storytelling. It combines powerful documentary footage with a thoughtful and nuanced approach to the subject matter, creating a compelling portrait of one of the most complex and terrifying figures in modern history. Whether you're a student of World War Two or simply a lover of great documentary filmmaking, this series is not to be missed.
Apocalypse: HItler is a series that is currently running and has 1 seasons (2 episodes). The series first aired on October 25, 2011.