Au Pair 3: Adventure in Paradise
Au Pair 3: Adventure in Paradise is a romantic comedy move that came out in 2009. It is the final installment in the Au Pair trilogy. The movie stars Gregory Harrison and Heidi Saban in leading roles. Au Pair 3: Adventure in Paradise presents the challenges a mixed modern family faces while on vacation. In the movie Alexander Caldwell and his sister Katie Caldwell are going on a family vacation with their father and stepmother. Alexander and Katie are in high school and college. Their father, Oliver is remarried to their stepmother Jenny. Alexander and Katie have a new half sibling, Sarah.
Their family vacation to Puerto Rico was supposed to give everyone a chance to relax and bond as a family. It was supposed to give Alexander and Katie a break from school and provide their dad Oliver and their stepmother Sarah a break from being new parents and from their busy high level jobs.
However, the nanny who was supposed to come along bails on the family. While on vacation Oliver learns that a new young hotshot is trying to take over his company. Hilarity ensues as Oliver and Jenny try to balance a blended family, new baby, and corporate takeover all while enjoying some warm Puerto Rican sun.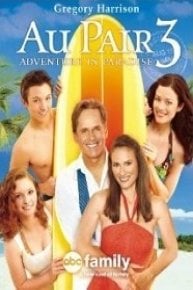 Au Pair 3: Adventure in Paradise Full Episode Guide
Episode

1

-

Au Pair 3: Adventure in Paradise

The Caldwell family returns this March in Au Pair 3: Adventures in Paradise, the third installment of ABC Familys hit Au Pair movie series. The Caldwell family has been in desperate need of a family vacation after a year of great changes. Katie is done with her first year of college, Alex just graduated from high-school, Oliver has been battling his CFO and board members over a new business venture and baby Sarah barely knows anyone except her mom, Jenny. With everyone coming home and no school restrictions, Oliver takes the opportunity to surprise the family with a vacation to Puerto Rico. But just as they reach the tropical paradise it becomes clear that all Caldwell family members have different agendas for the vacation. With everyone off on their own adventures, Jenny is left on a family vacation with no family. Can Jenny pull her family together before the vacation becomes a complete disaster?