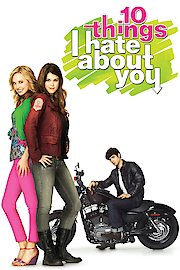 Watch 10 Things I Hate About You
TV-PG
2009
1 Season
10 Things I Hate About You is a romantic comedy TV show that aired on FreeForm from 2009 to 2010. The show is based on the movie of the same name, which is a modern-day adaptation of William Shakespeare's play The Taming of the Shrew. The show centers around the Stratford sisters, Kat and Bianca, who are polar opposites in terms of personality.
Kat Stratford, played by Lindsey Shaw, is a feminist and an intellectual who doesn't care much about what people think of her. She's rebellious and independent and has a strong sense of self. On the other hand, her younger sister Bianca, played by Meaghan Jette Martin, is popular and social and cares a lot about fitting in. She's also very boy-crazy and dreams of being the most popular girl in school.
The show's premise revolves around the two sisters and their relationships with the boys in their lives. The boys, Patrick Verona played by Ethan Peck and Cameron James played by Nicholas Braun, both have their eyes set on Bianca, who is not allowed to date until her older sister Kat does. Patrick is brooding, mysterious, and has a bad boy image, whereas Cameron is the new kid in school and is desperate to fit in.
The show also features other recurring characters, such as Kat and Bianca's father Walter Stratford, played by Larry Miller, their friend Chastity Church, played by Dana Davis, and their classmates Michael Bernstein, played by Kyle Kaplan, and Joey Donner, played by Chris Zylka.
Throughout the series, viewers witness the sisters' relationships with their respective love interests developing, as well as the ups and downs of their friendships and family dynamics. There's also a lot of drama surrounding the various cliques in the school, with Kat often clashing with the popular crowd.
One of the things that makes the show a standout is its witty writing and clever use of pop culture references. Each episode is named after a popular song from the early 2000s, and the show features a lot of references to iconic teen movies like Mean Girls and Clueless.
Overall, 10 Things I Hate About You is a fun and entertaining show that's perfect for fans of romantic comedies and teen dramas. The show's lighthearted tone and likable characters make it easy to binge-watch, and its clever writing and pop culture references keep things fresh and interesting throughout its run.
10 Things I Hate About You is a series that is currently running and has 1 seasons (20 episodes). The series first aired on July 7, 2009.