Bank of Hollywood
When people are in need of serious money they go to a bank and take out a loan. This reality show features a panel of celebrities that act as a bank. Contestants must appeal to the celebs in the hopes that they will award them the money that they want or need.
Monday 10:00 PM et/pt on E!

1 Season,

8

Episodes

December 14, 2009

/

10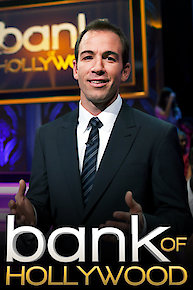 Bank of Hollywood Full Episode Guide
Episode

8

-

Harleys, Hunks, and Heavy-Lifting

A Harley man asks the panel for money, a soap actress is impressed with a soap actor, and a grandma lifts weights.

Episode

7

-

Pirates, Paris and Parents-to-be

On this episode of Bank of Hollywood the panel is approached with a Paris Hilton impersonator and gay couple that wants kids.

Episode

6

-

Tattoos, Tacklers and Tree House Dwe...

Episode

5

-

Mullets, Models and Muppets

A woman looks to have her tattoos removed; an all-female football team; and a man who lives in a treehouse in his parents' backyard.

Episode

4

-

Sashes, Soul Food and Smiles

The celebrity panel is asked to give money to an aspiring beauty queen, singing sisters who cook soul food and a yogi.

Episode

3

-

Gold Digger, Goal Seeker and Rock and...

Episode

2

-

Dancers, Determination and a Driving ...

On this episode of Band of Hollywood, hopefuls include a group of extreme dancers, a woman who wants a car without even passing her driving test, and a determined mom of 50 kids.

Episode

1

-

Boy Wonder, Balloon Maker and a Big R...
If You Like Bank of Hollywood, Then Try...