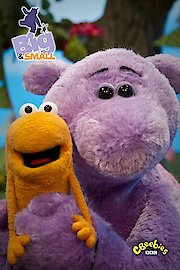 Watch Big & Small
Big & Small was a British-Canadian children's television program aired on CBeebies from 2008 to 2011. The show's major cast members included Jamie Shannon, Todd Doldersum, and Jason Hopley, who brought life to the characters of Big and Small. Big & Small follows the lives of two best friends, Big and Small, who have entirely different personalities from each other. Big is a large and jolly creature with big feet, enormous hands, and a love for adventure, while Small is an adorable small creature with a big interest in neatness and cleanliness.
The show's setting is in a colorful and imaginative world with hills, forests, castles, and various other adventures. It frequently features catchy musical numbers and dance sequences. It is centered on the theme of friendship and tackles common childhood problems like sharing, teamwork, and learning to appreciate the differences in other people.
The show's format consisted of a mix of live-action sequences and animated adventures. The characters were portrayed using puppetry and stop-motion animation. They interacted with each other, went on adventures, and learned valuable lessons through play-based activities.
Throughout the series, Big and Small engage in exciting activities like building a castle, going swimming, running a restaurant, and going camping. They always encounter obstacles along the way, which they have to overcome by working together as a team.
There are also other characters like Ruby, Twiba, and Snuffleup, who give different perspectives on various situations that the best friends face, and the audience can learn from. Ruby is a little girl who helps Big and Small with their adventures, while Twiba is an eco-friendly koala who encourages the best friends to protect the environment. Snuffleup is a wise old elephant who shares his wisdom with the duo.
Big & Small has been praised for its engaging narrative, colorful visuals, likable characters, and valuable life lessons. It is an excellent show for preschoolers to learn about critical attributes like friendship, problem-solving, and teamwork.
Furthermore, the show's musical numbers put a smile on a child's face and are also educational in nature. The catchy tunes stay with the young audience and ensure that they have a positive, fun experience.
In concluding, Big & Small was an excellent children's television program that left a long-lasting impression on its viewers, who grew to love the characters, their adventures, and the valuable life lessons that they learned. It remains an excellent show to watch for parents who want to expose their preschoolers to world-class children's television programming that is both educational and entertaining.