Braless
Laci Green and MTV have teamed up to bring you Braless. We bring a smart, uninhibited take on subjects like pop culture, politics, and history; all through the lens of gender, equality, and a little thing called feminism.
4 Seasons,

45

Episodes

March 17, 2015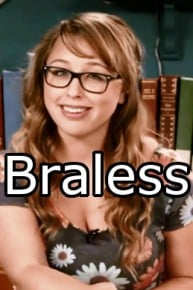 Braless Full Episode Guide
Episode

24

-

If Frats Were Feminist

Laci Green takes on the issues that no one want to talk about.

Episode

23

-

Trans Men Explain Male Privelage

We take time to talk with some tansgender men who have been on both sides of the gender gap and hear what they have to say.

Episode

22

-

Why Do Guys Still Pay for Dates?

On this episode of Braless we will discuss the complicated history of the guys picking up the check.

Episode

21

-

Are Male Athletes More Likely to Rape...

With the rise in High School and College sexual assault cases, do the number suggest there is a problem within the male athlete culture?

Episode

20

-

12 Products that Reinforce Gender Ste...

An honest discussion about how many products are marketed using gender stereotypes.

Episode

19

-

Do Lesbian Labels Create Stereotyes?

Braless teams up with Hartbeat to discuss all things lesbian. Are the labels helpful or harmful? How could any stereotypes promote any good?

Episode

18

-

If Famous Movie Romances Were Feminis...

What if there was a shift in romance movies and the lady was a feminist? How would that change the perception of girls?

Episode

17

-

5 Gender Stereotypes That Used to be ...

History tells us that gender stereotypes seem to be the exact opposite of what they used to be.

Episode

16

-

The Horror of Women's Clothing Sizes

Why do women's sizes come in 0,2,4,6,8,10... What does this mean? Why can't women find clothes that fit?

Episode

15

-

Women React to Historical Birth Contr...

For centuries women have attempted to prevent pregnancy, what happens when modern women hear the methods.

Episode

14

-

What is Gender Non-conforming?

Laci welcomes Miles Jai to discuss what it means to be gender non-conforming.

Episode

13

-

Birth Control for Men?

Laci discusses why there can't be more options of birth control for men.

Episode

12

-

Do Men or Women Take More Selfies?

Laci takes to the streets to get the public's perception on selfies.

Episode

11

-

Should Religion be a Part of of Polit...

For a country based on religious freedom, why do we tend to over-scrutinize our political candidates?

Episode

10

-

Is Zootopia an Intersectional Feminis...

For an impressive box-office hit, this movie takes on many more mature issues such as racism, and feminism.

Episode

9

-

What Will Trump's America Look Like?

It's always a good idea to take a serious look at any and all candidates and make sure to stay informed and get out an vote.

Episode

8

-

Are Witches Feminist Icons?

Some historical facts back up the idea that witches may be a feminist symbol.

Episode

7

-

Should Women Get Married and Have Kid...

Has the younger generation turned away from advice of the older generation to settle down and have kids.

Episode

6

-

Is Your Brain Sexist?

Laci brings Vanessa Hill from PBS to discuss the gender of our brains.

Episode

5

-

How to Respond to a Rape Survivor

With the statistical rates of sexual assault, it's important to know how to listen to any victim.

Episode

4

-

Are Open Relationships OK?

What is the difference between cheating on your other and an open relationship?
Episode

12

-

Down With The Bikini Body

It's now Summer time, and also the time for women to be bombarded with Get A Bikini Body Now advertising.

Episode

11

-

Is Mad Max Feminist Propaganda?

Is Mad Max pushing a secret feminist agenda?

Episode

10

-

Miley Has No Gender?!

There is a gender revolution on! It's always good to break traditional gender roles. Is it a problem that the rich white are the face of the movement?

Episode

9

-

Why is Beer for Boys?

Why does beer use sex to advertise? How does this affect the drinks we choose to consume?

Episode

8

-

5 Trans Misconceptions Bruce Jenner C...

What misconceptions did Bruce Jenner prove wrong? How did he approach the rumors in regards with his transition.

Episode

7

-

Should Rihanna Say Bitch?

Should women really call women a bitch?

Episode

6

-

Should Frats Be Banned

Fraternities are becoming more and more blamed for racism and sexism. Is this culture acceptable?

Episode

5

-

Can Amber Rose End Slut Shaming?

Our culture has a problem with sexual women, placing them as bad and ashamed. When will women stop shaming women?

Episode

4

-

Do Girls Lie About Rape?

With the increasing number of reported sexual assaults, why are these women doubted?

Episode

3

-

How Disney Stereotypes Hurt Men

Sometimes the social expectations for you sex are set for society by such things as Disney!

Episode

2

-

Who are TV's Best Lady BFF's?

We have a seen a switch in things since Tina Fey and Amy Poehler have shown the TV world the power of girl friends.

Episode

1

-

Is 50 Shades About Abuse?

What is really behind all fuss about the book and movie? Is it really about sexual fantasy or about an abusive relationship?