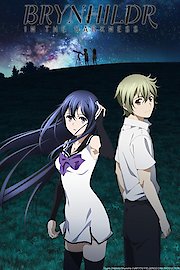 Watch Brynhildr in the Darkness
TV-MA
2014
1 Season
Brynhildr in the Darkness is a thrilling and suspenseful anime series that aired on Tokyo MX in 2014. This show follows the story of a teenage boy named Ryota Murakami, who has been haunted by the memory of his childhood friend Kuroneko, whom he believes died while they were on a stargazing trip together.
Years later, while attending high school, Ryota discovers a girl named Neko Kuroha who looks incredibly similar to his childhood friend. He soon learns that Neko possesses supernatural powers and is being pursued by a dangerous organization called the Astronomy Club, who wants to capture and control these powers.
Ryota soon finds himself caught up in a dangerous game of cat and mouse as he works to protect Neko and uncover the secrets behind the Astronomy Club. As more girls with extraordinary abilities are introduced, things become increasingly complex and dangerous.
The show is set in a dark and mysterious environment, with beautiful but eerie music that perfectly complements the mood of the series. The animation is top-notch, with beautiful visuals and fight scenes that are both intense and exciting. The characters are well-developed and have unique personalities that make them stand out from one another, creating a dynamic cast that viewers will grow to love.
One of the most interesting themes in Brynhildr in the Darkness is the concept of special abilities, and how they can be both a blessing and a curse. The show tackles the idea of what it truly means to have power, and the way in which those who wield it are treated by society. The characters are portrayed as real people with real struggles, making it easy to sympathize with them and understand their motivations.
At its core, Brynhildr in the Darkness is a gripping tale of love, loss, and redemption. It explores the deep bonds of friendship, and the lengths that people are willing to go to protect the ones they love. The series is packed with action, suspense, and intrigue, making it a must-watch for fans of the sci-fi and supernatural genres.
Overall, Brynhildr in the Darkness is an excellent anime that is sure to entertain and captivate viewers. With its compelling storyline, engaging characters, and stunning animation, it is a standout series that should not be missed.
Brynhildr in the Darkness is a series that is currently running and has 1 seasons (13 episodes). The series first aired on April 6, 2014.