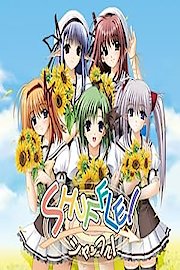 Watch Shuffle!
TV-MA
2005
1 Season
Shuffle! is a romantic comedy anime series that was produced by Asread and broadcasted in Japan from July 2005 to January 2006. FUNimation licensed the show for English distribution and released it on DVD in October 2008. The series takes place in a world where gods and demons exist and interact with humans. The story follows the life of Rin Tsuchimi, a high school student who lives with his childhood friend Kaede Fuyou. Although Rin and Kaede have been friends for years, Rin is unaware that Kaede harbors romantic feelings for him.
In the first episode, two new transfer students arrive at Rin's school - Lisianthus (Lis) and Nerine. It is revealed that they are princesses from the World of the Gods, and both have a romantic interest in Rin. Over the course of the show, Rin finds himself in increasingly complicated love triangles as he navigates his feelings towards the various girls in his life.
Shuffle! is a harem anime, meaning that the show features a male protagonist who is surrounded by multiple female characters who all have romantic feelings for him. However, unlike some other harem anime, Shuffle! does not rely solely on fanservice or ecchi moments to drive the plot forward. Instead, the show emphasizes character development and emotional drama.
The character designs in Shuffle! are striking and distinctive, with each girl having a unique look and style. The animation quality is top-notch, with fluid movement and dynamic camera angles that bring the characters to life. The voice acting is also memorable, with Tomokazu Sugita providing a charismatic performance as Rin and Cherami Leigh and Monica Rial bringing a lot of depth to their respective characters, Lis and Nerine.
One of the unique features of Shuffle! is the inclusion of gods and demons as major characters. The show explores the mythology of these beings and their interactions with humans. One particularly interesting character is Sia, a half-demon who is Rin's childhood friend. Sia struggles with her dual nature and the societal expectations placed upon her as a member of the demon race.
Another strength of Shuffle! is its ability to balance comedy and drama. The show has plenty of lighthearted moments, particularly in scenes featuring the adorable, fairy-like Primula. However, the series also delves into some heavy emotional territory, as Rin is forced to navigate the complicated relationships between the girls in his life. The show is not afraid to tackle difficult themes like guilt, regret, and the fear of losing what is dear to you.
Overall, Shuffle! is a must-watch for fans of romantic comedies and harem anime. While some viewers may find the plot predictable, the show's rich characters and emotional depth more than make up for it. With top-notch animation and voice acting, Shuffle! is sure to leave a lasting impression on anyone who watches it.
Shuffle! is a series that is currently running and has 1 seasons (24 episodes). The series first aired on July 7, 2005.