City Hall
City Hall is a South Korean romantic drama set within the politics and romance of civil servants. It's story centres around Jo Gook and Shin Mi-rae who both have different ambitions but are thrust into the public eye when Shin Mi-rae becomes the youngest female mayor in office. Jo Gooks intentions as deputy mayor are questioned when he helps Mi-rae become the mayor.
Written by Kim Eun Sook, City Halls depiction of South Korean civil service was broadcast on SBS, running from April, 2009 to July of the same year. The 20 episodes that were broadcast ran 22 minutes each and showcased the music of renowned pianist and music director Noh Young Shim. Cha Seung-won, who plays Jo Gook, returned to television after 7 years and has been in over 12 films.
The plot focuses on both the politics within South Korean civil service and the romantic relationship which blossoms between Jo Gook and Shin Mi-rae. Jo Gook is a brilliant politician and considered a Renaissance Man, but his ambitions have often overshadowed the trust that people have in him. Initially using Mi-rae as a stepping stone for his own presidential ambition, Jo Gook finds that his desire for a higher position is becoming secondary to his feelings towards Shin Mi-rae. After she holds a demonstration in front of city hall, demonizing the mayors greedy actions, Mi-rae becomes nominated as a mayoral candidate and Jo Gook sees his opportunity in her.
Citys Hall ratings were the highest in TV drama among its competition and it ended up winning the 2009 SBS Drama Award. Cha Seung Won and Kim Sun Ah, who played Jo Gook and Shin Mi-rae respectively, both took away awards in Best Actor and Actress in Drama Specials.
1 Season,

20

Episodes

November 18, 2009

/

10

Cast:

Kim Sun-a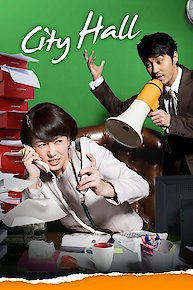 City Hall Full Episode Guide
Mayor Shin Mi Rae reluctantly signed paperwork that would allow The Dae Han Group to build toxic waste recycling plants within the city. Mi Rae gave up her seat prior to signing the documents. This gave Jo Gook enough time to get hard evidence on The Dae Han Group. Jo Gook was also able to get legislation passed that aims at preventing toxic recycling plants from being established in Korea. Mi Rae

Mi Rae refuses to sign the MOU contract, stopping the negotiations. The behind-the-scenes drama begins to become apparent to the other members of the city council and Go Hae's group. Mi Rae takes her anger out on Jo Gook, forcing a confrontation. Double-agent Jo Gook arranges to fix the contract.

Jo Gook returns the contract that gave him rights over Mi Rae's body. Both Mi Rae and Jo Gook have regrets, but fail to communicate. Negotiations continue, and the Dan Hae Group has the upper hand, despite Jo Gook's attempts to stop the deal.

Shin Mi Rae is questioned at the police station. Realizing the error, the city council arranges for Mi Rae's release. Jung Do accuses Joo Hwa of the scheme. The next day, Mi Rae finally meets with Go Hae, who accuses her of coming between her and Jo Gook.

Tired of the way things are going at City Hall, Mi Rae tries to reason with Joo Hwa. Something unexpected happens to Mi Rae at the end of her day.

BB brings together Mi Rae and Jo Gook to say things that neither wants to hear. Revenge is in the air for several people as they want others to pay.

Jo Gook shows affection for Mi Rae and both decide they have feelings for each other. Jung Do knows that he can no longer be with Joo Hwa after what she has done to Mi Rae.

Mi Rae's charity work leads her to a tense meeting with Jo Gook's mother. At City Hall, all of the staffers and ministers are united against Mi Rae's stated intentions of holding off the relocation, but Jo Gook comes to take her away on an elegant first date.

At a gathering, Mi Rae receives a poor response to what has been written for her but an attempt to try something else produces the same results. Mi Rae wins and encounters problems concerning Jo Gook.

Mi Rae thinks it would be a good idea to run for elected office in Inju. To raise the necessary funds for the campaign, Jo Gook sets up a conversation between Mi Rae and a mysterious donor.

Jo Gook invites Mi Rae on a trip and takes care of some issues at City Hall. With the elections coming up, people feel Mi Rae should run but Joo Hwa wants to get her out of the way.

Jo Gook and Jung Do help Mi Rae in her demonstration against City Hall. The officials at City Hall see the end coming as Mi Rae's events have more attendees.

Mi Rae is in trouble at work because of something she did. A demonstration started by Mi Rae features the goal of bringing to light events caused by Joo Hwa and lasts several days.

Jung Do informs Mi Rae that she will be implicated in the illegal dealings if she tries to say anything. Jo Gook gets information together to put a halt to the illegal dealings at City Hall.

Mi Rae feels upset about the way others in the pageant treat her and she presents the wrong impression concerning a situation. Elements of Jo Gook's life will surprise the people who know him.

BB and a city official want Jo Gook to rise in political power. Jo Gook is unhappy about being stuck in Inju and feels that he must do something more substantial.

Shin Mi Rae makes the choice to withhold her vote but other politicians try to change her mind. Officials come up with a plan to illegally get money from the town.