CollegeHumor Sketches
CollegeHumor sketches is a unique kind of collection of videos. They last anywhere from 1 1/2 to 3 1/2 minutes. The content is usually filled with adult humor. The dialog and scenes are often sexual in nature. The videos are also filled with profanities. CollegeHumor sketches are produced by InterActive Corporation. It is based in New York City. The videos are also produced by private individuals. Since their creation as an online channel, millions of people around the world have viewed them. They cover subjects such as dating mores, college living and college classes. There are no laugh tracks.
CollegeHumor channel was the creation of Josh Abramson and Ricky Van Veen. They have put together both studio videos and privately owned videos. There is a series called; "Jake and Amir", and "Nerd Alert". There are also animated videos. There is also a series called; "Hardly Working". They are a series of sketches filmed in their New York City offices. The sketches center around made up activities, based upon the day to day lives of the office workers.
There is also one series called; "Dinosaur Office". It is about several dinosaur puppets, their business and personal lives. Most of these videos are produced and directed by the employees of CollegeHumor.com.
Since the creation of CollegeHumor.com, their success is evident by the sheer numbers that have viewed the videos. Also by the people who have contributed their time and money into the production of videos for CollegeHumor.com. Their popularity just keeps rising. And the videos can be viewed at numerous locations online.
1 Season,

2

Episodes

August 4, 2008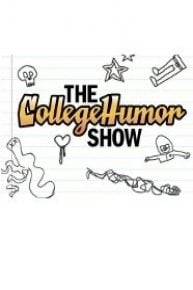 CollegeHumor Sketches Full Episode Guide
Episode

1

-

FUPA Music Video

rap about the most underrated part of a woman's body.

Episode

0

-

March of Shame

If Mother Nature knew, she'd be so disappointed.
If You Like CollegeHumor Sketches, Then Try...