Confidential
Confidential is an entertainment weekly newscast which is a result of a joint venture between Foxtel and News Limited that was based on the success of the Confidential Column of the News Limited new papers. The Confidential aired as a weekly Australian TV series that showcases the latest gossip and celebrities, along with all the rumors that were discovered. This entertainment newscast is an Australian series similar to entertainment news shows that air in the United States.
The backbone of the confidential can be credited to the hosts and reporters of the series. The hosts consists of Sophie Falkiner, Mike Hammond, Thomas Haynes, and Jonathan Pease. This is combined with the reporting from these investigative reporters, Chloe Adams, Luke Dennehy, and Megan Miller as well as these reporting newspapers around Australia including; The Daily Telegraph (Sydney), Herald Sun (Melbourne), The Courier-Mail (Brisbane), The Advertiser (Adelaide), as well as The Sunday Times (Perth).
1 Season,

5

Episodes

February 28, 2008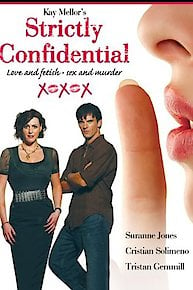 Confidential Full Episode Guide
Episode

5

-

Wine Confidential

This fascinating documentary uncovers the worldwide revolution currently underway as wine goes mainstream.

Episode

4

-

Dating Confidential

Dating Confidential meets the winners, the losers and the profiteers of the global dating game to unravel the mystery of how to find 'the one' using a combination of expert opinion, real-life stories, historical facts, TV/movie clips and even scientific experiments.

Episode

3

-

Sneaker Confidential

Taking a witty, entertaining, intelligent look, Sneaker Confidential, shows how running shoes have become the footwear of our day.

Episode

2

-

Canine Confidential

Episode

1

-

Blue Jean Confidential

Follow blue jean culture from the beginning mining days to the ranch, from the beat and hippie generations to the world's designer labels and celebrity cachet.