Easy Money
Easy Money is a show that made its debut on the CW channel in 2008. The show ran for one year. It was about a guy who takes over the family loan business and the interactions that he has with his siblings in the operation of the business.
1 Season,

8

Episodes

October 5, 2008

/

10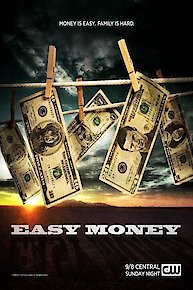 Easy Money Full Episode Guide
Episode

8

-

Bags, Bangles & Booty

Marijuana growers Dan and Melody McBride are unable to pay back their loan from Prestige because they are being blackmailed by Det. Yapp, so Bobette asks Morgan to help them out. But Yapp himself is in a financial bind between his wife and his girlfriend Tiffany. Meanwhile, Morgan tries to repair his relationship with Julia, who can't easily excuse Morgan's work for Prestige. Bobette joins Brandy at Madison's bridal shower, where she can't resist going to great lengths to discredit one of her debtors in front of the other guests. Cooper gets away from his marital troubles by spending a leisurely day with Roy.

While the computer system at Prestige Payday Loans goes haywire, Morgan gets an out-of-the-blue message from long-lost cousin Doug Johnson and is excited about the prospect of meeting a blood relative.

Episode

4

-

Chock Full O' Nuts

Morgan, knowing now that he is adopted, sets out on a search for the true details about his past. Bobette gives him a small detail about his adoption, but still keeps him close since she needs his help in the family business.

Episode

3

-

COLLATERAL DAMAGE

While Julia is busy wondering what the reason behind her lab partner's strange behavior may be, Morgan confronts Bobbette about the flaws in her stories about his childhood. Meanwhile, Mike has an inconvenient encounter with Prestige's new rivals when they come to collect.

Morgan Buffkin teams up with Julia Miller to investigate the secrets of his past. Corrupt Detective Yapp is close on his tail as Morgan tries to find clues to help him uncover a secret that will lead him to a better life.
If You Like Easy Money, Then Try...